Still on Hiatus but...
haha cant miss blogging about such a major event you see. spent the whole night listening to global chinese music awards LIVE. omg. can u believe it. dint do anything loh. haha. but its worth it cos my darling yanzi got a bagload of awards, namely:
MOST POPULAR FEMALE ARTISTE (woots, got it back from jolin!)
MOST POPULAR ARTISTE IN SINGAPORE (yay beat weilian and got it back from jj!)
BEST ALBUM
TOP 20 SONGS (a perfect day)
WONDERFUL! haha. wad a bagful of awards which she received.
the most popular male artiste was quite a surprise. andy lau beat jay chou? omg?
hehs. and my fave zhou bi chang won quite a few prizes too! (:
best quote of the day by zhang liang ying: "谢谢你们知道我的名字." haha. BEST quote i tell u. i can still remember it now.
second best quote by ella: (in a crazy tone) "谢谢爸爸妈妈生下SHE!"
ok i spent over 4 hours listening to the whole thing live on radio when i could get results on the web. i must be crazy. haha enough time wasted i should go sleep already :D
P.S. who heard it and thinks guo mei mei lipsync-ed confirm with me :D
consilio et animis
10/29/2006 12:15:00 AM
HIATUS!
yayy finally got a reply from my teacher. omg. i just typed on blogger and guess wad! they do spellcheck for u now with an ugly red underline. wahh pls lah its so irritating im getting irritated. :/ ok anw back to the story. haha. i wrote a letter to my pri sch teacher cos we still keep in touch lah. haha. but this time round she took a while to reply.
anw this is wad she said:
从字体来看, 哦!秀气多了!我还以为是女生写的呢!
haha. did my handwriting change so much over the course of a year? o_O yayy. so happy. got a good luck card from my pri sch teachers too (: is touched.
went back to sch today for gp lect and OMG. it was so full ppl had to sit on the steps lah. wonder why they chose LT2 lohh. hehs. mrs toh was rly quite funny which made the lesson more lively and as a result i didnt fall asleep. u know i slept so late this morning then when i woke up i was like: OMG i have a gp lect later. and i havent ate brekkie and washed up and bathed. then was hurriedly rushing out of the house loh. but i made it in time AND managed to get a seat. (:
hehs. feel like blog whoring today cos todays my last blog entry before i go on hiatus. haha. trying to cut down on net time. prolly just coming up to read blogs a bit and reply to taggies if any. (: if not i shd be in the depths of my books le. sigh. A lvls faster end then we can all have fun! (: class chalet! (: (: (: ok jiayou evryone! see u again on my blog in a mths time (:
consilio et animis
10/25/2006 07:02:00 PM
bye bye
WTH. seriously. i look ard me. evryone got damn easy questions for the cambridge math interview. and i got 2 shit questions which i couldnt solve completely. seriously ive asked those ppl my 2 questions and they cant solve. haha. and people got like wad. do simple differentiation. and im like. omg. whys my questions so difficult. wth lah. just my suay luck. plus my poor performance for last sat, i guess, bye bye cambridge le. ):
consilio et animis
10/23/2006 11:14:00 PM
cheers!
yayyy! (: WELL DONE YANZI for being the FIRST SOLO ARTISTE to make it to first place in 3 weeks! thats how pro lah! even owns jay chou. cos jay chou needed fei yu qings help to get that kind of result. but our own yanzi shall show him that we dont need 2 peoples' power + aunties' votes to make it to first in 3 weeks! WELL DONE MAN! (: i was cheering when i heard the results! (:
and my fave TIAN TIAN YE YE and CAN FEI by wu ke qun got up on charts today! haha i was cheering for that too! so basically today is the day where im super happy and my
bro
isnt cos all my fave songs all have good progress.
kai
! told u wo hen xiang ai ta will drop! points to my prediction. correct position some more. pro not ;)
and more reasons to cheer: there was a rain this afternoon and the air smells considerably fresher (: yayy for rain! (:
consilio et animis
10/22/2006 10:59:00 PM
reminiscent.
Went for cambridge math exam today. haha. the questions shd be qt manageable but the time constraint wasnt. argh i so wanted to try out more questions - they were so interesting! argh i want to do that mechs question but not enough time le. ): only did 4 questions lah how pathetic is that. sad lah i bet im halfway to the rejected list on cambridge le.
aft that went back with
kenneth
and apparently the bus ride seemed much shorter on our way back? haha. mebbe we were too busy analysing the math questions. omg. haha. i was nice and took 157 with him even though i could take 156. so i stopped outside the drabby bus stop outside rj. haha. like how many times have i used the bus stop? i can count with my 2 hands lah. hehs. i call it drabby cos the path is so run down and the bus stop looks ready to collapse. hehs. so i was just taking a leisurely walk all the way to the ri bus stop from there and enjoying the view of the school and the scenery abit. (:
oh yeah this morning my indian neighbour was quite sweeet. she came over and gave us some pastries cos they were celebrating deepavali. haha. thats the neighbour to my left. i have another indian neighbour to the right. oh dear the kids of theirs are no angels. they just launched a full waves of firecrackers and those small bomby things which are banned from singapore. i think they smuggled from malaysia lah wth. made the place smoky and noisy. not like its not smoky enough alr thanx to the haze.
1 WEEK MORE TO GLOBAL CHINESE MUSIC AWARDS! (: booos to weilian!
guesses for tmrw! (:
1. Get High
2. Finally
3. Yu Tian
4. Ai Shi Kong
5. Wo Hen Xiang Ai Ta
6. Tui Hou
7. Wo You Wo De Young
8. Zuo Ni De Nan Ren
9. Hip Hop Tonight
10. Qian Li Zhi Wai
please give me ye de di qi zhang and tian tian ye ye / juan lian tmr. and jiang jun ling! kick out the rubbish wei wu du zhun which doesnt deserve it there. *sticks tongue out at
bro
*
consilio et animis
10/21/2006 10:43:00 PM
equilibrium
OMG it has been so long since i blogged. ok. but today really must blog. wth lah early in the morning give me this kind of news. OMG weilian owned yanzi in the sms voting for the most popular artiste in singapore! wth like seriously. yanzi's fans pooled together 10K and tt was still not enough? not to mention they reported ppl frm china remitting money to singapore to ask ppl to vote yanzi. wad sort of power does weilian have?
BUT relax. haha. 60% comes from SMS voting, 40% is zhuan ye ping xuan. yanzi can, will and MUST catch up with weilian using zhuan ye ping xuan. omg if weilian gets it then its the 2nd year running where yanzi got suay luck. last yr jj managed to win yanzi loh and i was rly shocked lah. but at least lose to jj its still ok cos his standard still there. but lose to weilian. omg. anw this yr jj got no hope le! hes 4th right now no way he can make it to first. he got owned by junyang some more. mebbe ppl voted the wrong person cos they mix up the 2. :P
the sms rankings are: weilian, yanzi, junyang, jj, kelly, keira gong! quite surprised keira gong owned tanya and joi tsai. but as i said, theres zhuan ye ping xuan, so yanzi fans dont worry about your 10K going to waste ;)
haha anw i havent blogged for the past few days for 2 reasons. cos i had to complete the worksheets for my lecture and also because i had been working on some cool puzzles for my puzzle blog, so technically speaking i have been blogging, just not on this blog. if u are free, please pop by http://chorkspuzzles.blogspot.com/ and try out the latest puzzle. (:
yayy anw went back to sch todayy to have mechs lect. and ms wang scolded me for being too noisy when i was working on this prob w
kenneth
. ): haha. aft tt was waiting for my dad to pick me up cos i was lazy and didnt want to walk or bus home and wanted someone to fetch me to the doorstep. too bad my dads cant fly so technically i wasnt sent to the doorstep. ok. so i had to wait until my bros exam was over b4 dad came to fetch us both. met
kai
and intro-ed him to my
bro
. haha. so hes like the 1st non ex ri-mathsclubber in RJ to have seen my bro in person.
anw MSN is down today for some reason. i cant log in! ): and as i am typing this i suddenly got 2 mosquito bites? like omg? they are swelling right now. ugh. (EDIT: OMG. i just stepped on a mosquito and theres blood all over my toe!)
ok back to my main point. got my ns enlistment today. i believe all the guys got theirs today too and everyones talking about it. and im going to get enlisted on 13 jan 9am! anyone else going @ that slot? i know theres
ah kang
. (: whee so at least i wont be tt lonely le. they are quite smart. they sent a letter to me and one to my dad. haha. so if i dont go, it will also be my dads fault. under section 97-something. haha. okk. dunno whyy the one to the parents is in a PINK envelope while we get the green one?
yayy. and here are some of the pics which i havent uploaded since farewell. (: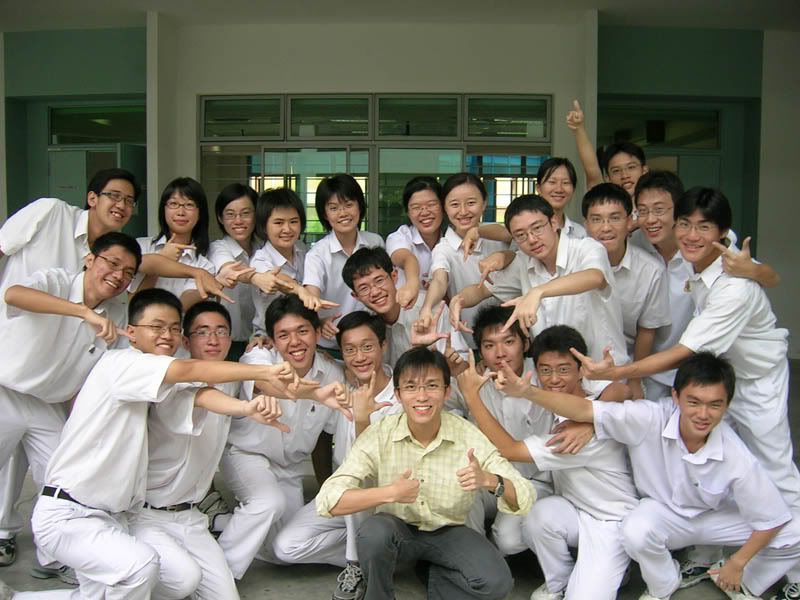 1D ROCKS!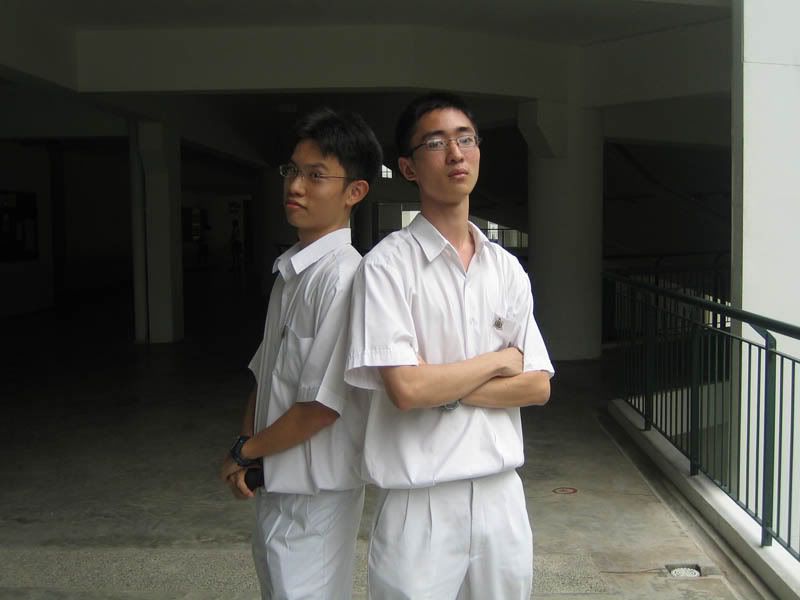 haha daoness.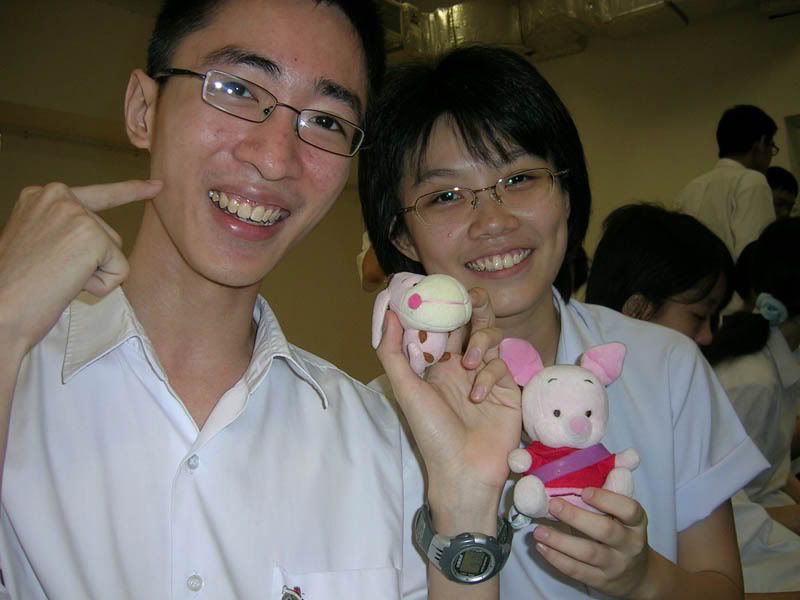 the pinkies! (: haha. does my cheek look as pink as
pinkchieks
'?
chork says: HEY HEY (a-la-mdm-teng style)! haha. we shd hav all said: WO DE DI PAN. and go rap like jay chou. haha. seriously LT3 is our di pan. (:
err. theres also a certain DSC00014 which shall not be disclosed. (:
consilio et animis
10/18/2006 11:19:00 PM
welcome
had to wake up at an unearthly time this morning cos of sats. got my first choice this time so i went down to ajc. it was rly an rjc gathering lah. met lots of rj people. and there was a cluster of councillors.
hehs. the test was quite alrite on the whole. math was quite alrite, chem was ok too but phy was difficult. haha. all the stuff about expanding universe. anw the highlight was the instructor who cannot speak english properly and pronounces zip code as cheat code and oval as ova. :P yayy! so sats is officially over! (: cheers and rejoices.
when we were leaving the place, we realised it was ajc open house. and there were like a whole group of people in LIME GREEN shirt at the exit saying: thanks for coming to AJC open house! haha then we were lolling away. cos i was like wearing rj sweater and
lizhan
was wearing rj uniform. haha. super funny lahh. but at least that made u feel quite qin1 qie4. we should consider doing something like that, instead of letting the people face the meano security guards the entrance.
WHEE! last eps of feng wu xiang luo tmr! cant wait to watch but therell be so many people dying ill feel veri saddd ):
guesses for charts tmr:
#1: ai shi kong
#2: finally
#3: get high
#4: qian li zhi wai
#5: yi ba san
#6: xiang xin
#7: wo hen xiang ai ta
#8: wo you wo de young
#9: tai mei li
#10: yu tian (:
consilio et animis
10/14/2006 11:13:00 PM
thick specs!
ahhh! im addicted to the hebe with thick specs look!!! reminds me of my craze over zhou bi chang which
kai
says looks like an rj girl. haha. hebe with thick specs looks like rj girl too! (:
haha thats zhou bi chang with her nice thick specs! (: thick specs + big eyes = nice! haha. reminds me of myself. ok. i better not get ego but i was reading my autograph book and realised qt a few ppl acherli mentioned about my big eyes.
anw if u havent watched the bu zuo ni de peng you mv, go watch below! the ending is worth it!
was youtubing today. watched tui hou mv and the ending was kinda sweet. (: and jay chou acts with attitude in that mv. but of course hes not the highlight of the mv. how can he be the highlight when HEBE TIEN is the star actress in that mv! haha. i liked this scene when jay chou asked hebe whyy she gave him so little juice and she said: "ying wei ni da jia, bu guai." and she got a cute spark in her eye when she said that.
watched no less than 12 mvs today. dunno whyy i got in the mv mood. haha. and guess what i have sats tmr. dunno what im doing lah. 5 practice tests await me and here i am watching mvs. ahhh. ): blame it on hebe's captivating eyes.
EDIT: see lah hebes eyes made me forget wad i wanted to blog about. yeah. OMG. weilian got into top 20 male artistes for hong xing da jiang? OMGGGG? if he gets into top 10, which i have a feeling he will, i will faint loh seriously. xinhui got into top 20 female artistes. and the 2 of them, tgt with du hui ping, got nominated for newcomers award. haha xinhui should win it lahh, her acting rocks!
oh yahh. fans of junyang kelly and silver, dont worry. its not because they are not popular. it is because they have decided to terminate their contract with mediacorp aft one yr so they are not qualified to win the award. what kind of dumb rule is that? omg. but at least we are assured it is not because they lost to *cough* weilian in terms of popularity. anw junyang and kelly are terminating the contract cos they want to focus on music while silver is back to being an optometrist. awww. so saddd. ):
consilio et animis
10/13/2006 05:15:00 PM
Bu Zuo Ni De Peng You
Felt bored today and decided to watch MVs. haha. you must watch this till the very end! this mv is full of surprises. (: oh and hebe looks superrrr chio with her specs. (: she should appear in that specs more oft. (:
consilio et animis
10/13/2006 10:23:00 AM
nostalgic
went cove for prolly the last time ever todayy. so sad. haha. we are the last 2 existing coves amongst the j2s. :/ that place brings me lots of memories. all the chats in the morning before morning assembly... ill miss that place. oddly noone chased us off today. no mr tai or mr leong. (:
aft that went to class for the last civics lesson with
cheekie
and we got prezzies from our ct reps! ahh! im in love with the cute pebbles! (: haha. the silver cap looked nice too but its not part of our prezzie. :P thanks
est
and
kenneth
for the effort! (: and thx for being such great ct reps! no wonder when i asked
kenneth
if he needed help he was like: err. no lahh its ok.
went farewell assembly and we had some photo taking before the start of the ceremony. took pics with
pc
and
pigletie
!
pc
is sad that he doesnt get to see
pig
alot too! (: so sad they spent their last hrs sleeping. bad piggish influence. but nvm
pc
will always rmb evry fri's a
pigletie
day so he will get more sleep on fri! (:
the ceremony turned out to be quite draggy and there was this black faced teacher wearing black, with hei yan quan hovering behind us and breathing down our necks during the ceremony, which made us quite frightened. oh im not exaggerating about the details. u can ask anyone in my row and theyll say the same thing. the ceremony concluded with
junli
's speech and seeing her speak up there reminds me of the numerous occasions she had to present a speech before a crowd. and i am glad we all chose her as our pres. she had indeed done a *mighty* good job. (:
went back to class to photowhore even more. haha. got lots and lots of photos but most ppl havent sent yet so ill wait till all the photos come before i upload them all at once. (: photobuckets kinda slow mahh. then i started taking dao poses before we went up to take a pic on the bridge before we went to lt3. our home. (: 9 hours a week is spent in that place. the place was dark so i walked down the whole flight of steps in the dark.
anw its rly sad we dun get the corner seats anymore cos its the best-est place you can ever find. can rmb how we always fight for corner seat cos the wall is so nice to lean on and me being so ever nice will always give up that corner seat. (: and i did a mdm teng's hey-hey in the lt. haha. "HEY HEY!" we also took pics of numerous sleep poses in that lt and played around with the visualizer before we left the lt. lt3 rocks. even though its smaller than lt1 and lt2, im sure its the BEST lt to all fmaths students. like the cranky mike and the always falling tables. (: my fondest memory of lt3? how mrs cheang suddenly decided to take attendance when i decided to pon w
est
. (:
aft tt we went back to class to play cards before heading to j8 for lunch.
kenneth
,
est
and i were all n00bs at subway so it was really amusing. haha. the orders there were so diff frm tt in our sch loh. we then played countless rounds of zhong ji mi ma. very funny. there was this round, where i was the 2nd to guess and it was like from 1-70+ and i just guessed a random number like 46 or sthg like tt and i acherli zhong4. omg. im how lucky today.
strangely got a headache while playing tt game. haha. so aft a while we headed back even though i wanted to go bishan lib but my head was abit cmi. strangely though, aft i reached home, in a matter of like 10 mins the headache cleared le. haha.
kenneth est matt grace
. one of u must hav been my ke xing. (:
send me photos so i can put them uppp in my next entry! (: (: (: (:
consilio et animis
10/11/2006 10:32:00 PM
interview!
went for mas interview today. haha. started with an essay which required me to elaborate on my personal motto. and my introduction was talking abt the promethean flame. basically i was talking quite a bit of rubbish cos i just cant write under the pressure of time. ):
interview was ok at first until this point in time when i fumbled and i just stopped there. nothing to say. OMG LAH i cant believe i just stopped talking and couldnt continue. OMGGG? but i rly didnt know anything abt being an actuary lah. :/ really shdnt hav attempted to ban men nong fu. and aft tt i was fumbling alot la and by the end i was like hightailing my way out.
oddly they chose to talk about lotsa stuff that are more trivial than i expected. was hoping to talk more about my prefectorial and council work but they dint seem quite bothered about that? but the ladies were quite nice lahh. the one on the left had cool red specs. the middle one was quite nice in explaining to me terms i didnt understand. and the one on the right had the winking sort of smile.
oh. and if u ever go to the mas building, pls dun be a n00b like me. haha. cos their lifts only cater for certain floor and to operate the lifts you need to tap with your card. i spent quite a while at the lifts until this lady came to my rescue.
aft tt went by alpha dental to pass my dentist some stuff and talk to her wife. then headed straight to school and weather suddenly grew very hot and haze set in so i was cursing my way back and wondering why i didnt take 13, 88 or 156. by the time i reached school i was starving so i was literally wolfing down my lunch. rly silly lah shd hav accepted the tea/coffee at mas before i left. but i dont drink coffee and i dont drink milk tea. so yea.
found out frm
amelia
that we had to do this chem w/s for the chem lect in the afternoon so was trying to chiong it but was stuck at the first question so i gave up and went into the room to chat with
junli
and
kangya
. found this pair of cool shades and decided to try them on. haha. then
junli
and
kangya
posed with me to take a photo. (: makes me feel like a celebrity. and
kangya
was commenting that i am very 爱美 HAHA. rly, i didnt know there were silver shades too. if i knew i wld hav put those on instead!
aft tt went for chem lect and when i came out the sky was omgg-ishly hazy! hehs.
junli
and i were speculating the psi and it appears that i was wrong. i guessed that it was not more than 60. apparently it was 70! ):
oh and for everyone's amusement, and because of the need to broadcast such a great match, i shall publicise this:
we were having our last civics class brekkie last week and we decided to play zhong ji mi ma.
the stake was the cup of grossness you see on top. haha. it was made frm lemon tea not milo by the way. (:
and the 2 challengers. *drum roll*
haha. see mr lee looking so de yi on top? haha. not anymore.
hope the concoction of the day tasted nice! (:
consilio et animis
10/10/2006 10:31:00 PM
owning
omg pls no! at this moment, weilian has the most number of votes for the most welcomed artiste in singapore award in the global chinese music award ceremony. omg? can u imagine my horror when the dj announced that? pls lah. i can name u 5 other nominees who own him. whyyy!
the vote rankings are as follows at the moment:
#1: weilian
#2: yanzi
#3: junyang
#4: jj
#5: kelly
haha not bad. superstars take up 3 out of 5 positions in the top 5. and its a big surprise that junyang should outdo his "twin" junjie so fast ): and the biggest surprise of all is WEILIAN OWNS YANZI?! omggg.
okk went back to sch todayy for fmath revision and the questions we did were really tough! ): then my dad drove me to amk for lunch and i encountered this amusing incident. basically there were alot of reporters there. according to my dad they reported, a few days ago, that on zhong qiu jie, the hawkers and the ppl living there prayed for a 4D number and the number which was given to them was a 3rd prize number. over 300 people over there won a huge sum of money, some even over 100K? haha.
so to thank the gods for giving them this windfall, some of the big earners pooled part of their winnings together and organised a celebration, which included offerings + lion dance segment + free buffet for all. unfortunately the buffet was at late 1ish and i reached there at ard 12 so i dint wait for it. but i found this story rly amusing. well, the reporters thought so too. there were so many of them ard, with cameramen at their sides snapping photos of the event.
consilio et animis
10/09/2006 10:27:00 PM
your story my song
yayyy! haze cleared considerably today, even dropping all the way to 27! omg how good is that! *breathes in huge breaths of fresh air* hope it will continue to stay that wayy! (:
anw those who have heard charts today might be a little surprised like myself. OMG. how in the world did tui hou get on the boards before ye de di qi zhang! ): ohh. and just fyi. those djs kept saying "hou tui" instead of tui hou which makes me go -_-" so sadd. qian li zhi wai failed to get 3 weeks champ! must jiayou nxt week and win back the title! (: and ye de di qi zhang must get up too!
hehs. recently there had been quite a few nice albums so competitions on the charts is rather fierce! yanzi fish and jay. sounds like a good fight ahead. haha. i shall recommend some of these recent albums:
Artiste: Joi Tsai
Album Title: Deng Yi Ge Qing Tian
Rating: 4/5
Expected charts performance: 2/5
Recommended songs: Deng Yi Ge Qiang Tian, Lian Zhi Qi
Comments: Joi's voice is sweet as ever and the songs in her album are really nice, you can listen to them over and over again without getting tired! unfortunately, this is more of a compilation, and the fan base here isnt exactly that huge so joi will have to jiayou le. (:
Artiste: Xu Ruo Xuan
Album Title: Vivi And
Rating: 3.5/5
Expected charts performance: 3/5
Recommended songs: Mei Ren Yu, So So
Comments: Album title's abit screwed. Other than that, mei ren yu is really nice and the rest of the album has quite a varied genre of songs so it will definitely suit the tastes of many!
Artiste: Liang Jing Ru
Album Title: Qin Qin
Rating: 4/5
Expected charts performance: 4.5/5
Recommended songs: Qin Qin, Nuan Nuan, Shi Yi
Comments: This album has little surprises in store for her supporters. The only surprise is probably in a bad sense. Why did she fan chang zeng bao yi's lousy song and dump it in her album? Ok. this album makes use of all the tested and proven methods, so it is not exactly that bad but if you are a fan of hers, you'll kinda expect more.
Coming up theres wu ke qun's jiang jun ling! really excited about that! (:
consilio et animis
10/08/2006 11:40:00 PM
haze
went to dsta talk this morning. haze had cleared abit this morning but was still as bad. :/ by the time we reached there, i saw my frends at the main entrance. apparently some had waited for quite a while le. after registration, i got this file which contained a quiz which allows u to exchange a prize for getting a certain number of correct ans. so
justin
and i went ard to search for the answers. haha. and so we got more answers right than was required to get the worst prize. and guess wad, they refused to let us claim the lousier prize and insist on giving the better one. -_-"
aft tt we toured the DSO labs. it was rly quite fun. esp since u get bussed straight from DSTA to DSO (which was like <100 m away?) and wont have to walk in the lousy haze. got to see the robots and lots of cool tech gadgets. and talked to this guy about integral equations and differential equations. and tt rly got him talking and we rly talked non stop until the last bus was abt to leave and i had to cut him off.
went back and there was another talk but my frens and i just hung ard and waited for lunch (which was qt nice!) before heading back home. the whole itinerary sounds qt short rite! but time rly flies in there lah! 4hrs just flew by like tt, without me realising. :/
by the time i reached home, the haze had visibly worsened. and the psi continued climbing all thru the aft. ): i am super sensitive to haze loh. my eyes, nose and throat will feel super irritated by haze. and the haze makes the weather so incredibly humid and hot that i will feel drowsy and sleepie too. not to mention the disgusting burning smell.
guess wad. the psi hit an all time high of 150 today. omg rite. and the haze rly makes the place look snowy, but ull remember that this is hot sunny singapore and ull be reminded of the humidity and the dreariness of the weather and the stinkiness of the air and ull realise it is nowhere near winter. oh and my mum refuses to let me turn on the aircon 24 hours a day! ):
those culprits causing this shd be sent to moon and they can burn all they want up there. and the indonesian govt would have less poor people to take care of. wad a wonderful solution aint it? ;)
and my guesses for tmr's charts! (:
#1: qian li zhi wai - jay chou, fei yu qing
#2: xiang xin - lin yi lian
#3: ai shi kong - energy
#4: finally - wang li hong
#5: tai mei li - tao zhe
#6: wo yao de shi jie - xiao ya xuan
#7: get high - FIR
#8: wo hen xiang ai ta - twins
#9: yi ba san - 183 club
#10: fei xing bu luo - FIR
consilio et animis
10/07/2006 11:01:00 PM
last day
last parade square assembly, last day of official curriculum timetable. so many lasts... its kinda sad. haha. but it isnt our last civics with
cheekie
! (: theres just one more next wed! aft our last chem tut with
cheekie
, he did some roundup of the 2 yrs and we played some cards before i headed home to get my wallet. can u believe it i forgot to bring my wallet today. it was how inconvenient loh, i had to walk home! ):
aft that, went wisma to collect my laptop and to buy some stuffs. was walking to and fro orchard and somerset loh. omg. haha. and i saw loads of
PINKCHIEKS
! (: the pinkness of them all! haha. felt like taking out my
pinkchieks
to say hi to them but then id prolly be sent off to imh. :P
had to go back to bishan to meet up with
grace
and
matt
. heres the best part la. the stupid entrance to the mrt was closed and its like everywhere you walk underground you will find yourself barred off from the mrt. omg loh. i actually spent ages cooped up in there before i decided to walk out and go to the station from outside. haha. okk. according to
grace
and
matt
, that was the only way now, so luckily i had some common sense.
went to
matt
's house to gamble.
kenneth
joined us shortly. the gambling chips were really cool but sadly i was greatly depleted of them cos my luck was so bad today! hmph. headed home with
kenneth
and the haze seemed reasonably better. but as of now, when im blogging, the haze had suddenly worsened and OMG. i cant see j8 at all from my house anymore! ): rahh. mebbe its xin li zuo yong, but the haze is making me feel itchy and sticky all over!
consilio et animis
10/06/2006 11:13:00 PM
squashes and kicks
what is the point of studying for your parents. what is the point of trying to please them when they are never satisfied with your results. what is the point when rj supposedly allows u to discover all your talents and potential but your parents do not care about them?
its rubbish. how all your years of jc amounts to this. how it ends like that. has any differences been truly made in our lives?
mr lee
was lecturing us on how, after 2 years, we had not changed a jolt. i dunno, but i just feel a tinge of sadness amidst all the happiness, joy and merry-making today.
that said, i did enjoy myself today. there was the zhong ji mi ma session with the concoction of the day at stake again. haha. this time its grosser with grape jam. haha. food was good too. there was the super huge cake which
grace
and i bought yesterday. it was so chocolate-y i couldnt take it lah. haha. shdnt have asked for the most chocolatey cake in secret recipe. :/ aft tt played the game of life and some cards and that was how we whiled 4 hours away. lessons aft tt was boring and we dint get to see
mr k
moonwalk. :/
there wasnt even phy S, LOL. wonder how we r ever getting the solution? went to
mr k
to get marks for phy S and in the end 2 pros were dispatched to look into my questions. mr seah and ms wu. lol. and i failed to attain 1 mark from ms wu to get my D.
ahh someone get the haze away my eyes are dying. :/
consilio et animis
10/05/2006 10:22:00 PM
letting go
went w
sheenie
this morning to collect some stuff who dint turn out to be that bian tai aft all. :P aft that we got a pic of the fishie palace quan jia fu! (: whee! cuteness. pc and cc are still very excited aft today!
hehs. ms wang started talking to me aft lesson this aft. although i dint want to admit it, im afraid shes awfully correct with regards to my lack of confidence. surprising huh, but its true. she says i always sound very frightened when i talk to teachers. hehs. and ms wang says some day she needs to knock some sense into me, cos i was telling her my prelim results arent good enough for scholarships. well. i guess this is rj after all, so ull keep getting overshadowed by the pros out there. hehs. so ms wang was asking me to try to let go of this brainless competition. "been there done that". thats what she told me.
quote from zhi zu (mayday):
会不会放手其实才是拥有
quote from juan lian (FIR):
最难的决定是放手
but it isnt always easy to let go.
consilio et animis
10/03/2006 06:58:00 PM
the pinkness
got lots of pep talks by teachers todayy. hehs. seriously we r suffering from an overkill of them. it sorta makes the classroom mood abit scary and serious. shudders. the day was rather boring and 2 evil people collaborated tgt to kidnap poor
pinkchieks
. he was so sad that he turned blue and became an eeyore - but not for long. :P oh yahh! and the unrepetent evil girl spammed my tag! OMG. doesnt this call for revenge of sorts? :P
aft that was stoning around at the council room for a while chatting to
kangya
about the latest songs! haha
kangya
if u see this go update your mp3 player! i just updated mine with hip hop tonight by coco and vanness and lots of joi songs! (:
then helped
maomao
with her uni apps and amused myself tricking a newbie. hmm lets see. she was wols enough to believe that i lick stamps. how gross is that can. i am how refined loh. -_-" whee! jiayou with your uni apps! (:
got back my s paper. as expected, i was close to doing better for math s than fmaths. seriously i dint know wad happened to me while doing fmaths lah. i just lost the mathsy touch. :P aft lesson i was feeling so stoned that i decided to ask my dad to fetch me, since i had my phy sat book if i was really bored waiting.
luckily there was
maomao
again. haha. but she abandoned me and
pinkchieks
so
pinkchieks
got very sad again after that. aww. ): there was this person who drove in and
maomao
was asking me whether the driver was a he or a she. at that point i was so positively sure that the driver was a he. short hair. guyish look. and then, after
maomao
left, the driver happened to step out and i was like: OMG. its a she! gasp. i cant believe i cant tell a guy and a girl apart. how shi bai. and i was still laughing at
maomao
. :/
okk. aft that there was this girl in pink who came up to me and asked me for directions to the RI PE department. ok. i dunno why i mentioned this but i guess im just feeling random now. basically. somehow, i always look like i know directions or sthg. hehs. cos aft that the girl dint ask the other ppl for directions?
yayy! cant wait to take 全家福 tmr! (:
pc
and
cc
claps their hands excitedly.
cc
hasnt seen
maomao
for so long le bet he must be missing her! ;) da tuan yuan. :P
consilio et animis
10/02/2006 11:59:00 PM
mermaid
whee! just spent around 4 hours at my aunt's place. its really quite sad how i dont get to see my uncle alot nowadays. sighh. i really wish him well. :/ anw i randomly realised that all my relatives on my maternal side live in private housing so we are the only anomaly. haha. my aunt's house is prolly the nicest. i like the board walk leading up to her house and the mini garden. (:
got to see my very cute cousin. haha hes really very cute okk u just want to pinch his fat cheeks. (: its really simple to play with kids. we entertained ourselves just with one balloon, u'd never expect you can derive so much fun out of one balloon. (ok and one balloon pump)
back to earlier todayy. noticed that someone in the unit opp my house had been blowing bubbles the whole afternoon todayy. and i vaguely recall he/she had done that yesterday. really quite weird la cos i really wonder who would be so free to blow bubble thruout the afternoon. its for at least 3 hours each time, that im sure. the bubbles are really pretty though. they would float across the empty space between the flat and the carpark, and sometimes they will reflect light from the sun. so it is a really pretty sight. you feel as though you are in fairyland. i wonder why someone would blow bubbles for such a long period of time. i wonder if the person is troubled, cos i like to blow bubbles when i am troubled. hehs. and i was really tempted to blow bubbles back in reply to that person, but i doubt my bubbles are as powerful as his/hers and prolly would burst before reaching him/her.
hehs. and did anyone notice that the haze has been quite terrible the past few days? my eyes are really irritated by the haze. as i told some people on fri, my eyes are ultra sensitive to haze and smoke. it was really qt obvious when my dad was driving his car along the expressway and right in front of u, u see a hazy patch. tskk lousy weather.
ooh. n great achievement! today is prolly the first sunday im not making any chart rants. :P
做一条快乐美人鱼
游向幸福的大海里

consilio et animis
10/01/2006 11:14:00 PM