爱了才懂
wow. yida finally released a new album! i thought he got shelved by his company already HAHAAHA. anw, his voice is still depressing as ever, but thats his style. (i wonder if yida can sing ANY happy songs hahaha) but his first hit is quite nice!
爱了才懂 - 黄义达

雨落在 没风的午后
雨停了 气氛沉重
我们安静的听着心跳的节奏
谁都不开口

关于爱 我们都不懂
向前走 还是退后
试着找回当初那相爱的理由
全都(全都)是借口

相爱后 我们才发现 彼此不同
失去拥抱的冲动 想放开手
相爱后 我们才发现 爱情过重
负荷不来的温柔 渐渐失控

关于爱我们都不懂
向前走 还是退后
试着找回当初那相爱的理由
全都(全都)是借口

相爱后 我们才发现 彼此不同
失去拥抱的冲动 想放开手
相爱后 我们才发现 爱情过重
负荷不来的温柔 渐渐失控

一路上 雨下的好凶
落在我们 爱情的尽头
沉默的 坚持着等维持多久
说穿了 我们没把握
去推卸 永远的沉默
爱过了 我们才懂

相爱后 才发现 彼此不同
失去拥抱的冲动 想放开手
相爱后 我们才发现 爱情过重
负荷不来的温柔 渐渐失控
爱过了 我们才懂
on a side note, next week's going to be a really exciting week! khalil, peggy hsu, wang li hong, harlem yu and FLH's new songs will be aired! haha really interested to know what khalil's new song, singalongsong sounds like hehhs.
consilio et animis
11/29/2008 10:23:00 PM
marina barrage
i went down to marina barrage with my family yesterday. wait. more accurately, i
drove
them down haha. and ok this must be the first time out of XXX no of driving sessions since i got my license that i didnt get horned at. its quite an achievement for me actually haha. ok. anw, we decided to go there cos we missed the grand opening, and wanted to take a look at how our reservoir in the city looks like.
ok, i must admit that the actual reservoir itself looks less grand than what one would expect from looking at the model of the reservoir and blueprints. but the scenery from the top of the barrage, plus the various water facilities together make the barrage itself quite spectacular and a place worth visiting haha.
when i first reach that place, i noticed that there were not one, but two couples taking their wedding photos at that place. haha felt it was a weird place to take wedding photos at though, since that place was once reclaimed land, and the barrage is newly opened, so that couldnt possibly be the place they first met or something haha.
what i liked about that place was the "sustainable singapore gallery", where they actually explained the history of the barrage, how it works, and also tells us about the water resource in singapore.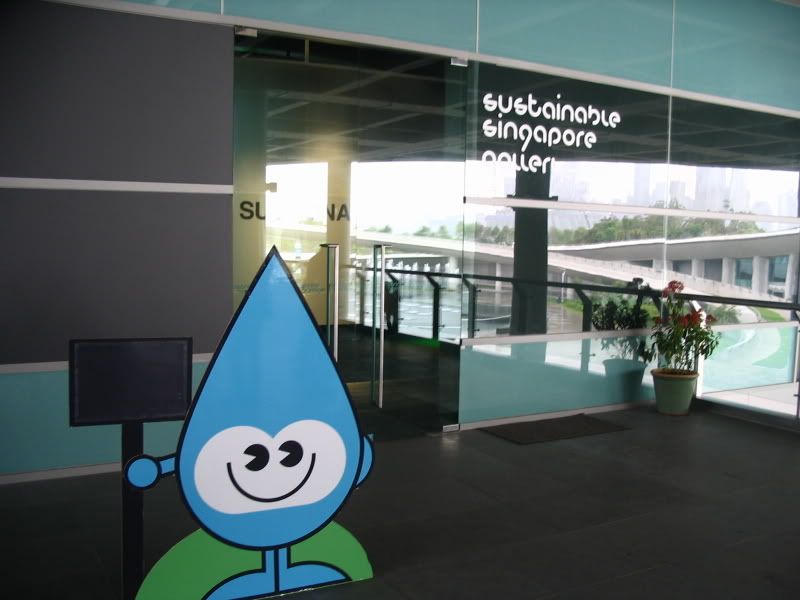 haha heres me beside a giant water droplet. next to these droplets is this touch screen book where u use ur finger to "flip" the page by touching a side of the page and doing a "flipping" motion. that kinda amazed me for a while lol.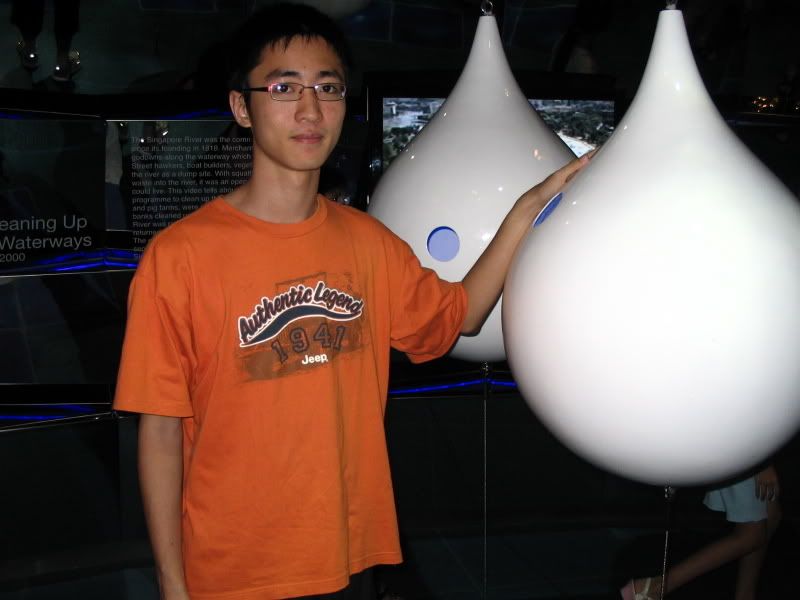 theres a model of the barrage, explaining how it helps prevent flooding at surrounding low-lying areas. heres what happens when theres heavy rain, and it is a low tide. the walls of the barrage will be lowered and the excess water from the reservoir will flow into the sea, but seawater will not be able to backflow into the reservoir.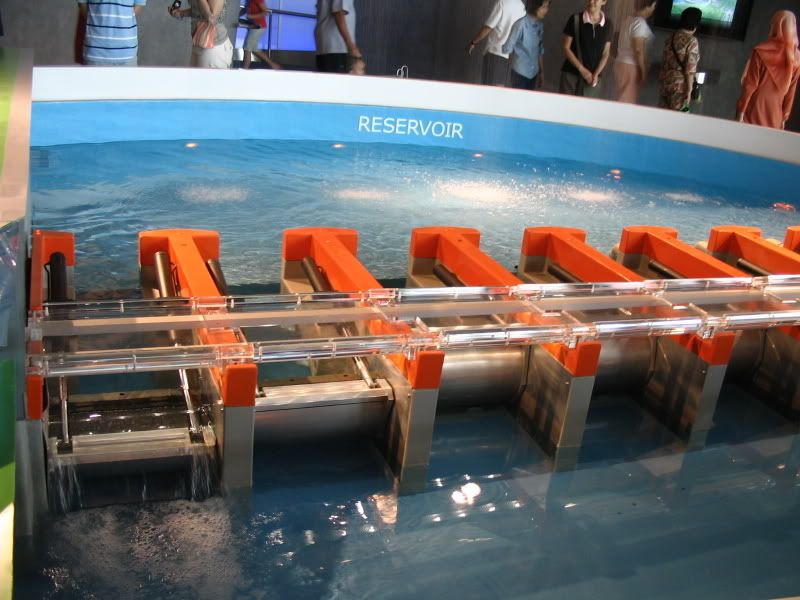 and when there is heavy rain, and it coincides with a high tide in the sea, these special pumps at the side will be activated. cant remember how many olympic-sized pools they can empty in how many seconds haha.
ok. i have something against the gallery at this point in time. after weaving through the numerous exhibits, and arriving at the final exhibit, there were no exits, and we had to walk all the way back to the entrance and leave from there! anw, the top of the barrage allows people to have a glimpse of the surrounding city area. and heres a view with the singapore flyer in the distance. i wonder if the view will be nicer at night...
heres a view of the barrage itself. at that point in time, it started raining. haha i wonder if it is low tide or high tide at sea...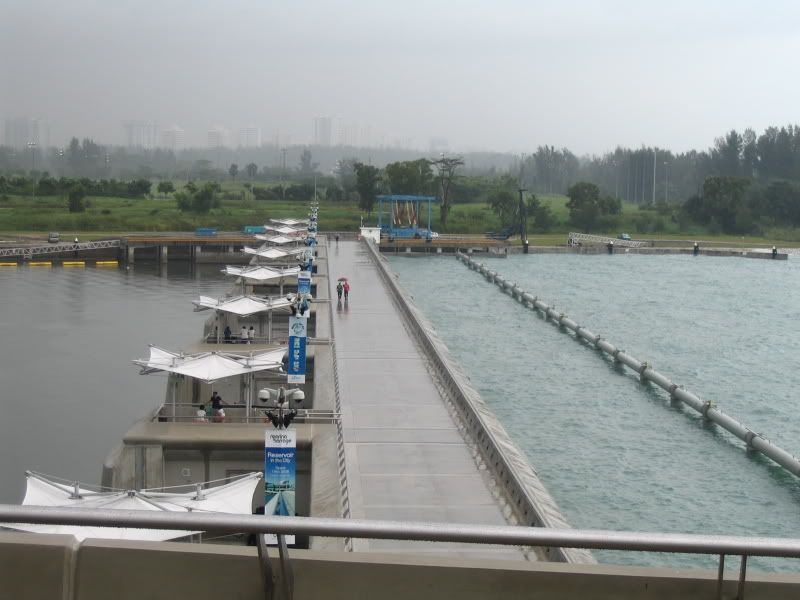 some static water display at the entrance of the marina barrage. haha theres a kids play pool nearby, but i did not go there cos number one im not a kid, and number two i didnt want to get wet haha.
after visiting the barrage, we went to have lunch somewhere around tanjong pagar. wanted to eat fishball noodles but all the fishball noodle stalls in the food centre i went to were closed for the day. SAD. so in the end had to settle for lor mee.
next up, we went to suntec to visit the food fair cum home electronics fair. i thought it was a really weird idea to put these two together in a common exhibition hall. when i stepped in, on the left hand side was all the food stuff (including cooked food which could be purchased there), and on the right side were all the electrical appliances. weird.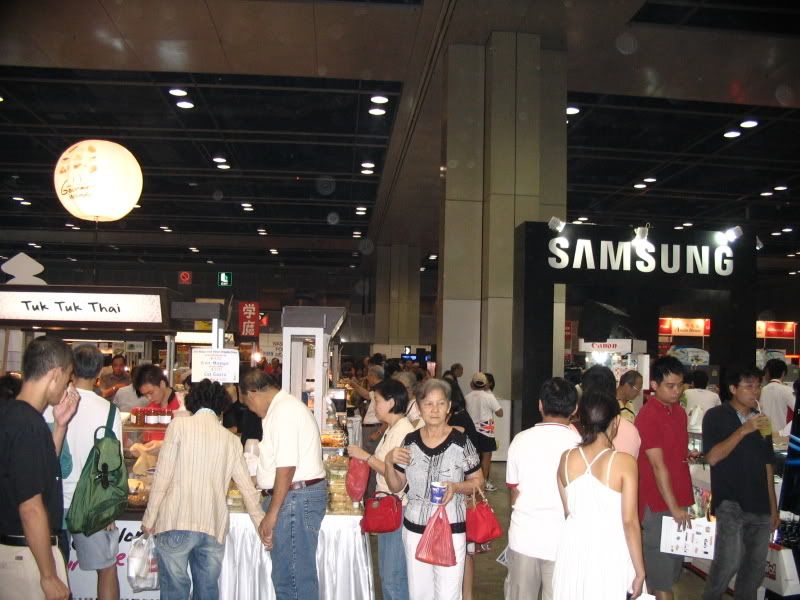 ok actually we went there cos my mum wanted to buy something. i was generally kind of bored there. there were some items like laptops and mp3 players that caught my interest, but it was very much a home appliance fair, and not an IT fair, so the variety wasnt as huge, and the discount wasnt tt great either. most notably, sony and creative did not participate in the fair too.
haha. so after wandering around a little, i found this stall which had a huge banner "学魔术", and decided to go and check it out. the stall owner continuously performed magic trick after magic trick, and even though ive seen some of those tricks before, i still could not figure out how the tricks work, so i was mesmerized for quite a while.
only when it was time to leave did a thought pop into my mind: so how does a magic stall fit into a food and home appliance fair? HAHA.
on a side note, maydays 你不是真正的快乐 made it to number 1 today on the charts! 3 weeks to number 1. that was real fast! huang jing lun's 月光 also charted! thats a really nice song and i really love it. in fact, i have listened to huang jing lun's entire album, and really love his voice and his songs.
consilio et animis
11/16/2008 09:59:00 PM
月光
月光 - 黄靖伦



小时候妈妈唱的一首歌
陪我走过春夏 秋冬
漫长黑夜里点亮了远方的灯指引着
我往前走

长大后身边的人总是沉默
把自己的心反锁
幸好有你这首歌 温暖 着我
不会忘记了初衷

慢慢地 1 2 3
渐渐地在两端
独自穿过 陌生街头
不让 泪逗留

一样的月光
蒸发了泪光
爱让有情的人可以去跟痛抵抗

一样的月光
照在我的心上
有爱我的人陪我生活就有方向
喜悦 悲伤 因 你而发光
陪我去闯

consilio et animis
11/16/2008 09:36:00 PM
nobag
wow this season of survivor just became more interesting today. haha. yet another blindside omg. and it seems like sugar suddenly bucked up alot. she was actually one of the only two who could start a fire at the immunity challenge! and she made corinne shoot herself in her foot after saying: "sugars a moron. i could be nasty to her for 26 days, and nice to her for 1 day, and she will buy what im saying." lol.
which makes me wonder. perhaps sugar might be THAT good right from the start? dont forget, she found the idol effortlessly. and she appears to be such a weak player that the bunch of them has still not yet attempted to flush out her idol. thats crazy. shes going to be the important vote swinger for the rest of the game at this rate.
kennys also becoming more and more scheming, but his arrogance might cost him his game. hes probably also treating sugar as an idiot, and i have a feeling this misplaced confidence that he has sugar in control might be his downfall.
anw, charlie got voted out, and i guess hes not that sad, cos he can have nice private moments with marcus HAHA. on a side note, i cant believe the whole group agreed on such a disgusting tribe name - nobag (gabon spelled backwards). cant rmb who, but someone actually said it sounds nice. eeew.
consilio et animis
11/14/2008 09:43:00 PM
ORD LOH!
The much anticipated day has finally arrived, and i can proudly shout out ORD LOH! AND i am finally reunited with my pink ic after 2 long years (: the taste of freedom is just... wonderful haha. pink is the new colour for freedom!
in the morning, i went back and collected my final few clearance signatures, then went to collect my pink ic and certificate of service. aft tt, went back to guardroom and gave the guys a treat before returning home. so this is it. goodbye sungei gedong!
thinking about my 22 months of national service, i feel that i have grown, albeit not in the way they cornily put it as "from boys to men". there were certainly many things that i would never have done, nor even imagine myself accomplishing, yet under the encourgement and support of my peers, we have managed to tide through these challenges together. many years down the road, im pretty sure that if i run into them along the road, we will be able to reminiscent about the tough times we survived through, or the crazy things we did. these harsh experiences have made me a more determined person, and i will not be easily upset by minor hiccups.
i also got to know many people, from different backgrounds, and with different characters. i learnt to open up, and improve in my interaction with people. getting to know some of these people allowed me to have a greater perspective of the society, which i will in turn be serving in the not-so-distant future. some of these people i knew also had genuine problems (such as family problems and monetary problems), and to them, being in army was actually a "shelter" from the harshness of the "outside world". this made me realise how fortunate i was.
therefore, while i am certain that the army life does not suit me (the regimental style of operation and strict accordance to hierarchy when it comes to making decisions), i do not deny some of the benefits of national service, in terms of character development. i have learnt several lifeskills, and thus grown much in my thinking, and my outlook of life. really, as long as one kept an open mind, no matter how adverse the situation may say, he would be able to take away some positive benefits from the experience, and i have definitely benefitted from my NS experience.
of course, this experience would be much harder if i had not met lots of great people along the way, and i would like to thank all those guys that had helped me, encouraged me and supported me in one way or another. hope to see you all really soon (:
for now, time for a well deserved break.
consilio et animis
11/12/2008 10:23:00 PM
screenshots
haha here are some random screenshots i took while net surfing!
first 2 are from the MV of zhuo wen xuan's latest shu qing song - yi ju hua. i just cant take it that genie is in schoolgirl uniform in the MV. i know its for cute appeal and all, but SHE JUST DOESNT FIT IN THE UNIFORM!
ermm... the uniform looks REALLY small in her in the nxt shot.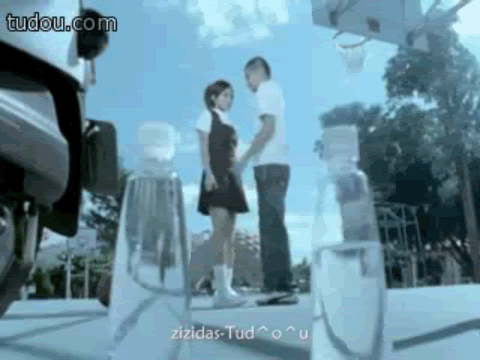 haha... ok. on to the next mv screenshot. this one is from kelly's xian shi de yi wang. apparently she changed her zao xing in this album, and even cut her hair. her singing style also changed a little, causing people to have the impression that shes mimicking stefanie sun. this shot of her really reminds me of yanzi...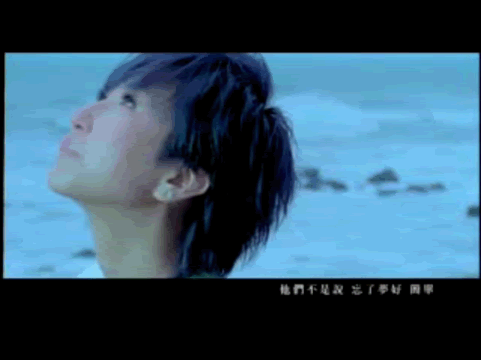 and now...
AMAZING RACE SPOILER AHEAD!
DO NOT READ ON IF YOU WANT TO CONTINUE ENJOYING THE SUSPENSE OF THE SHOW
...
...
...
...
...
...
ok so u chose to read the spoiler. if u r following this season of amazing race, i think ull seriously regret this. anw, i was surfing wikipedia and checking out on the latest season of amazing race, and this was what i saw.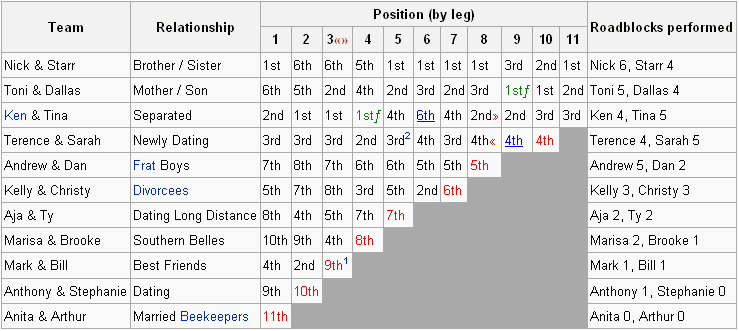 i was like: OMG. they showed the team positions, final standings, and even who used u-turn and who received it. like gosh. this is the ultimate spoiler, if this info is correct. and when i checked back that evening, the spoiler was gone.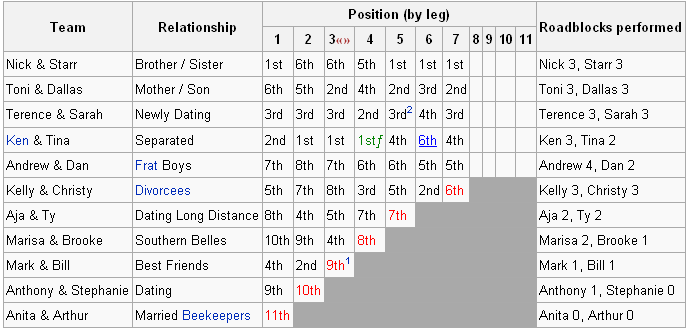 whoever posted that, without even giving a spoiler warning, seriously ought to be shot.
hehhs. anw, the most anticipated day in my life so far has finally arrived. the taste of freedom is just round the corner. YES! im finally ORD-ing tmr! really cant wait to see my pink ic again! and just now, my BMT PC actually called me to congratulate me on my ORD. thats really nice of him, to actually remember all of us even after he ORD-ed. had a nice chat, and felt really warmed by the convo (:
and last but not least, heres wishing
sheenie
a happy birthday! your birthday sure took ages to arrive. ):
consilio et animis
11/11/2008 10:05:00 PM
morning @ upper pierce
wow i cant believe i actually went to 2 reservoirs (AND also before sunrise) in a week! went to upper pierce reservoir with my family this morning. the path around the reservoir was much easier to walk this time, and there were no clouds of flea-like bugs haha. it was very much just tar road all the way. this time, we did remember to bring a camera along haha. we reached there just in time to enjoy the sunrise view:
after that, we walked along the sides of the reservoir and reached the island country club. we took a look around the golf course, then headed back to the entrance. we only strolled for around an hour or so, but by the time we reached the entrance, it was much brighter than when we came.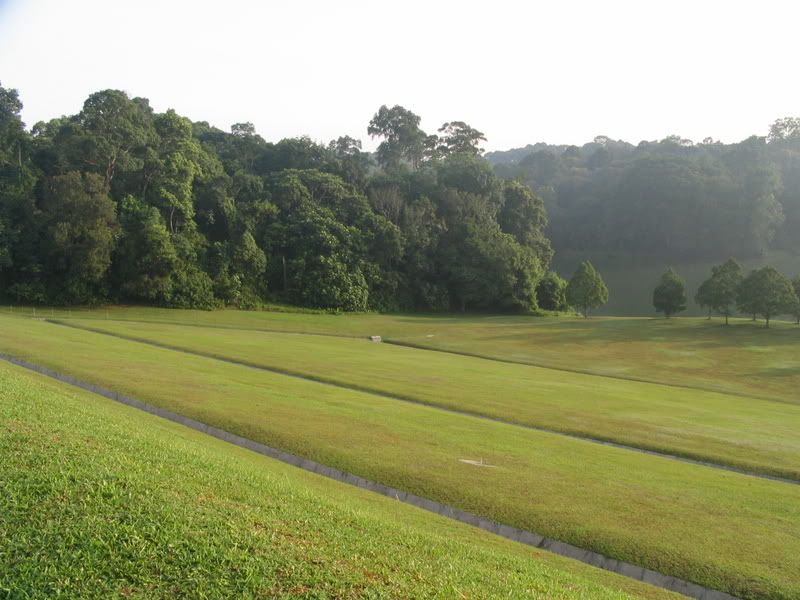 haha, just before leaving, we noticed that there was this black log-like creature / thing floating on the surface of the reservoir quite a distance away. it looks a lot smaller in this photo here, but if u were there, u wouldnt strike off the possibility that it is a crocodile. kind of disturbing, if there is actually a crocodile lurking around in the reservoir. hahahs my dad actually asked me to post this on stomp but i cant be bothered lol.
on to todays episode of survivor. it is definitely one of the most awesome one in the season so far! just when everyone expected a merge, (which usually occurs around this time when there are 10 players left), they had yet another tribe reshuffle. and i was still thinking fang's previous members will be doomed since ex-kota outnumbers them in both new tribes. what surprised me was that, despite marcus acting as mr nice and trying to pull connections, he actually got voted off. there goes the strong marcus-corinne-charlie alliance.
and anyway, corinne was real mean in this episode, and actually despised susie for her age. not only that, she tried to act cool with the new "fang" pronunciation thing, and attempted to correct jeff for pronouncing the tribe as "fuh-ung" as it is meant to be pronounced. i cant wait to see her expression when she learns that marcus has been voted off at tribal HAHA.
come to think of it, marcus was the guy who actually called the lot of them stupid for throwing away the hidden immunity idol cos he thinks the power would fall into kota. he was like so confident that he had everything under his control, it was a really shocking twist to see him get blindsided. looks like he really regretted throwing away that idol - and his million dollars. hahas. the game has become more unpredictable and exciting.
consilio et animis
11/07/2008 09:18:00 PM
morning @ macritchie
my dad had this idea for my family to have an early morning walk at macritchie today, so we woke up at like 6 and headed to macritchie reservoir. we then walked along the board walk, while admiring the morning sunrise view. it was really quiet then, and there was only the sounds frm the insects and birds. i was reminded of the intro to jay chou's latest song "dao xiang", where he asked: 你有多久没有听到虫鸣鸟叫的声音了呢? haha... it is really a good idea to sometimes just take a step back, slow down our paces, and just enjoy these simple pleasures which nature provides us. it feels really enjoyable just watching the sunrise and breathing in the fresh morning air.
along the way, we actually met quite a few people who had arrived at the park much earlier, and were already heading back to the start of the board walk trail. we continued walking along the board walk, and along the way, my bro and i noticed this mass of small flea-like bugs. they formed this huge cloud above the board walk trail, and we actually had to go through this buzzing mass of bugs to proceed on. it was kinda gross and we just dashed all the way through haha. then we started talking about how we will have to face that again on our way back.
after walking for quite a while, we went quite deep into macritchie, and reached this sign, which directed us to walk into this jungle trail to head in the direction of the tree top walk. AND GUESS WHAT, my dad decided not to heed the sign and walked along this muddy path, and our shoes all ended up quite muddy after that. and after going through the mud trial, we realised we were at the exit of that jungle trail, and this duo, who were behind us and took the jungle trail route, was already like a 5 min distance ahead of us. LOL.
we then reached the golf course area, and walked along the skirts of the golf course, towards the tree top walk. along the way, we saw a "BEWARE OF GOLFERS TEEING" sign and i actually thought that this kingfisher that was resting on the sign was part of the design of that signage, until it actually flew when i was just centimetres from it. along the way, we also saw some monkeys, a stork, and a school of fishes that had transulcent skin.
after walking for like 1.5 hours, we reached the jelutong tower, which i clearly remembered to be one of the checkpoints of our navigation exercise in sispec. in fact, i had bad memories of scouring that whole area (and walking through marshes) for checkpoints HAHA. at that point in time, we decided that it would take a really long time to get to the suspension bridge, and we didnt have our breakfast before we came, so we decided to make our way back.
luckily, we didnt have to walk through all the mud and flea-cloud again. haha based on my gut feel, i went in a rough direction towards the golf course, and then cut through the golf course and walked through the island country club, then walked along the expressway, back to the entrance of macritchie. haha thankfully i did not "holland" (lose my way), and so the faith placed in me by my bro + parents werent misplaced, and we ended our morning excursion after walking non stop for 2.5 hrs!
sadly, we all forgot to bring a camera so we couldn't take pictures of all the things we saw, but the experience and memories were definitely unforgettable. :D
consilio et animis
11/04/2008 11:19:00 PM
AR + Survivor
haha last fri's survivor had a shocking twist - both teams were going tribal council where they had to vote off someone. just when kota was owning and all, and everyone thought that they were safe. but the highlight of that episode was kenny making up a story to sway sugar to his side, and con her to blindside Ace. and the best thing was, he managed to pull it off, because Ace unwittingly tried to ask sugar for the immunity idol, which made her believe kenny's story that ace was ganging up with matty to vote sugar off. i always wanted Ace out of the game, so i was pretty happy when the blindsiding worked.
and for yesterday's amazing race, i was so happy that ken and tina got last spot! but unfortunately they werent eliminated. unless tina's attitude improves, ken and tina will be failing miserably again next week. kelly and christy making it to 2nd place was also quite a surprise, considering how the ladies sucked at car painting. but i guess they made up time on the ironing task hahaha. i would fail horribly at both detours if i had to do them. and next week they will still be racing around india! apparently they will hav to go thru some festival/ritual where dye has to be splashed on them. they look kinda pitiful in the shots haha... cant wait for next instalments of both shows!
consilio et animis
11/04/2008 10:53:00 PM