class outing
went for class outing yest even though it wasnt much of a class outing cos not many people went. but still we had quite a bit of fun. met
grace
and
sergius
at woodlands mrt for lunch first. then we waited for ages for the people to come and then finally,
yuxin
arrived followed by
kenneth
and
kenneth
. i mean
kenneth
and
wangkan
. haha. :P feeling quite evil cos
kenneth
made us wait, we decided to give him wrong directions and made him wander all around woodlands MRT station while we were happily stoning away.
aft a while we decided to go up and meet them and then check if
cheekie
has arrived since we were supposed to treat him. gave him a call and realised he cldnt make it so we got PS-ed. haha. oh wells. he missed our lunch treat + swensens cake treat! went up to jacks place to have lunch. it was quite amazing to see how 2 girls could just have 1 spring chicken for lunch. hehhs. oh yahh the waitress tried to cheat us by saying this promotion super quickly and saying: so shall we have that? Then we were all like stunned lah and almost got conned by that sneaky woman.
Aft that we went
sergius
' house to play poker. And the pro managed to emerge as the overall victor again. Now now, surely you can't call that luck? ;) Whee. But being in
sergius'
house is scary. You see all the achievements which his brother accomplished, and the achievements which
sergius
accomplished, and whatever you had done so far waaaay pales in comparison. :P Still, we had a very enjoyable day at his house :D
consilio et animis
3/25/2007 10:22:00 PM
vivo!
checked my posting this morning and found out that i got into SISPEC! OMG (: yayy i got what i wanted!
kai
says i am crazy to feel so happy about going SISPEC. hehhs. apparently alot of ppl i know are going SISPEC, so yayy we can meet again (:
aft that went vivo with
sheenie
to treat her to marche, and for her to suan all the zhang i owed her thus far :P alighted at harbourfront and realised i was on the same train with her. :/ headed straight to marche first. it was quite a while since i last visited marche, they now changed their card to a nicer card rather than the long cardboard paper slip.
we first ordered a rosti. which is like the thing tt most people order when they go marche cos its so filling and nice. (: wanted to order pizzas but apparently this branch didnt hav pizzas. sobs ): i miss their nice mini pizzas! ordered a fishie to go with it too. was quite horrified to see how the guy used salt rather liberally. ended up having a rather salty fishie. hehhs. meanwhile
sheenie
ordered pasta which was quite ex considering how small the portion was. and under
sheenie
's recommendation, i ordered the highlight of the day: PORK KNUCKLES!
we then started eating. haha. the pasta turned out to be quite niceee, so well, at least that made up for the extremely small portion. i liked the cream, but gave the tomatoes a miss (: icky tomatoies. then we moved on to the fishie, which was quite salty, but passable. oh. mebbe another thing about the fish. it had like so many bones lahh. so troublesome to eat!
then was the highlight. pork knuckles! OMG. i can still imagine the taste now. its like so superbly nice. tgt with the nice black pepper sauce. faints. and the crispy portion of the meat was the best lahh! crispy and juicy. gastronomic heaven. hehhs. aft eating the pork knuckles, the fish pales in comparison alr lohh! i shall make pork knuckles as a must-eat, (together with rosti) the next time i go marche.
still felt a little hungrie aft tt and ordered a seafood platter and some drinks. my lemonade was quite weird cos it wasnt sour. it was sweet. haha. anw, on to the seafood platter. being my super tiao ti self, i fished out all the chilli bits and the disgusting bitter green thing. hehhs. its SUPER filling lahh. under the combined efforts of
sheenie
and me, we only managed to finish like 4/5 of the plate. hehhs. theres lots of nice seafood inside, and the rice was super nice, but unfortunately we were really too full le. ):
sheenie
then took a pic of all the food we had pigged on for todayy and i shall put it below aft she sends it to me! and i shall scan the receipt and paste it here when i feel less lazy and walk over to get my receipt to scan it.
yepps. aft paying for our wonderful meal (
sheenie
was coughing at the counter :P), we decided to walk around so that we will feel less full. yeahh. i was really super uber bloated at that point in time. we decided to shop around vivo city first. hehs. let me attempt to recall some of the shops which we visited. there was zara, mango, marks n spencers (dint buy any sweets cos i was feeling so full!), river island, top shop, gap, adidas, crocs. hehhs. cant rmb the shop which made me feel super out of place, but there were a few. but there was this shop which i went in and we left in seconds cos i was rly super out of place there. it wasnt even tt bad in mango lehh.
anw. the shop visits made me feel super poor of cos. haha. but we saw lots of nice baby clothes! esp the ones at top shop! which were tons cuter than the adult clothes and OMG when the clothes were worn on the baby mannequins, they look even cuter lohh! i dun even rmb having such cute clothes as a baby. baby these days are so lucky HAHA. the adidas baby clothes was a diff sort of cute cos they were more sporty and more for outdoor occasion. hehhs. the pink on the baby clothes dun look bimbotic at all loh. they acherli look pretty (: awww. haha. KAWAIIIIII! i want to be a baby now HAHA. waves to
poohbabie
. we shall buy u a set soon alrite (: oh yeahh, we were also talking about which sets will be nice to buy for
cheekiebabie
;) whee. cant wait to see
cheekiebabie
!
aft that,
sheenie
wanted to buy a pair of crocs shoes but unfortunately her size was in between 2 sizes so she cldnt get herself a pair. but i personally feel the shoes dont look nice. comfortable yes, but not nicee. hehhs. tts prolly the first thing i didnt agree with
sheenie
on during the shopping trip. i was trying hard not to agree with her but her taste was too good lah. :/ hmph. hav to admit that.
went to look at some cuties at mini toons. oh and we bypassed a shop with a mao-mouse. :P hehhs. maomouse. so cutee :P aft that before we headed off to find haagan dazs so
sheenie
can treat me to raspberry sorbet. but unfortunately, while heading there,
sheenie
poked me so i made a wrong turn and we ended up in harbourfront towers. hmph. see lah ur fault. :/
anw we finally found out way to haagen daaz and we had raspberry sorbet! it was the first time i was eating it and i loved it aft my first mouth! it has a tinge of sour when you first eat it, but it leaves a sweet aftertaste. OMG. im in love with it alr (: it was quite a pity that we finished our raspberry sorbets rather quickly, and we regretted it. ahhhh. we were brought to heaven again. :D oh yahh. the staff were super polite in there lahh. they keep asking if u need help, if theres anything wrong, and when u leave the place, they still thank you for visiting and welcome u to come again. veri nicee (:
aft tt headed for our last stop. face shop. of cos, i insisted ill use nothing frm there. haha.
sheenie
bought a few face masks and aft tt we both headed home. feeling super full and not wanting to eat dinner since we had the ice cream at 4ish, 5. yayy. had a wonderful dayy at vivo and just before i left the train, i managed to take revenge on
sheenie
(: but we truced alr so no more fighting le (:
EDIT: here is the photo of our pig-out!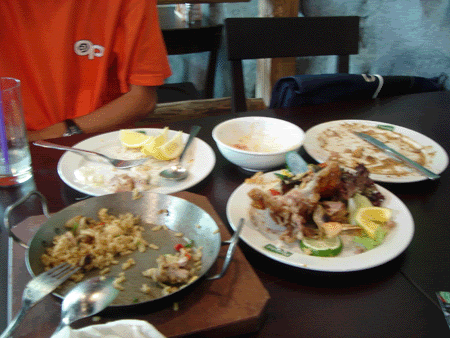 and the result of our pig-out! ;) ouchies! :P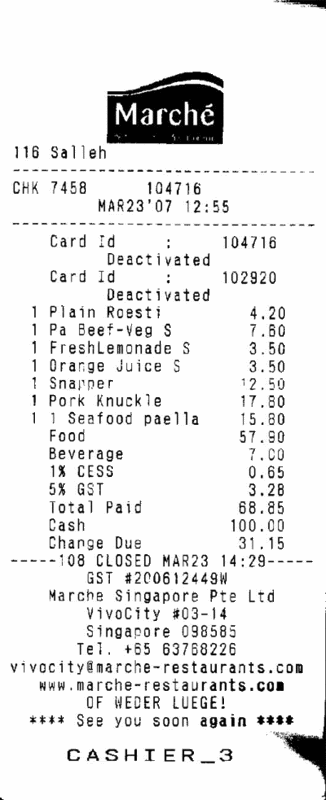 consilio et animis
3/23/2007 10:11:00 PM
freer days!
On to my next set of entries!
Tuesday (20 Mar)
Got forced to go air force session with mum todayy cos she thinks military planes are interesting and that it was a rare opportunity to check out some military secrets. yeah right. like. rolleyes. and i cldnt argue cos i had nothing on today. so there goes one whole day. cos this whole thing is 10 hours, which is like a whole day. like omg? note that i havent had a full day at home yet up to this point. ): and i was very much looking forward to more youtube time. BOOs at my mum.
the whole program was basically very draggy. like we waited 30min for this live display which lasted 30sec-1min and the plane was out of our sight. and there was this room where they sent us in in batches of 8. and there were 100+ ppl. and each spent 5-10min. yeah. now you know why it is a whole day thing.
aft that was a series of talks. like half the ppl who were seated at the back just conked out and slept cos the mike was very soft and we cldnt hear much. the q&a was worse. HAHA. basically there was only 1 question asked and then the speakers just spent the nxt half an hr to 45 min answering tt plus telling us some additional random info. bleahh. finally. the ordeal was over and the highlight of the day arrived: LUNCH.
aft lunch, we headed to the nxt campsite to view more displays. the static display ended like 1hr early and sum1 acherli came up and apologised to us, telling us that the nxt part of the prog wont be ready till 1 hr's time. like OMG? *faints* so they just kept apologising to us for having to wait. hehhs. now i know why the whole program is 10 hrs long. basically u can pack the whole thing into half that time. bleahh. efficiency.
was really mad at the end of the day tt i wasted a whole day with something im not interested in. just cos my mum was too free and wanted to watch some planes. rly. i m starting to hate my mum being so free.
Wednesday (21 Mar)
mum made me real pissed this morning cos she was complaining abt evry single aspect of my room and my army bag. and how untidy i was. and how long i spent on the comp each day. blah blah blah. basically. my bros in sch. shes bored. and she needs to boss someone around. and i happen to be the only candidate. so yeah. bad luck to me. met my tutee in the afternoon. had a fulfilling session on oscillations and graphing techniques. (: quite happy that we made lots of progress and i helped him sort lots of concepts out!
Thursday (22 Mar)
WOW! my first free day since POP! spent the whole day at home. ok mebbe not the whole day. went through the routine morning exercise which my mum had been forcing me to do, but aft that i had a whole day at home to listen to yanzi's new album and finish watching hua yang!
was extremely disgusted by the ending. basically. the lead up to the final scene was bad enough le. wad with the magic joke. i dont find it funny at all? and the ending. wahh. wad kind of ending is that? just leaves room for hua yang 2 lohh. kinda disappointing how the last episode was so cheesy.
so, aft all 15 episodes, mei tian officially remains as my fave char! he is so funny, yet he has the serious side of him when he is handling important issues. cheers to mei tian (: tong zhi wan sui :P
oh. and i was really pleased with yanzis new album (: she tried out lots of diff feng ges this time! shall do an album review later...
我怀念的是无话不说
我怀念的是一起作梦
我怀念的是争吵以后
还是想要爱你的冲动

consilio et animis
3/23/2007 09:22:00 PM
Back to the dreaded island
before i lag super badly in my blog entries, heres an attempt to chiong the entries in the past week or so. yeahh. acherli im just trying to show tt i have a good memory and that my brain isnt rusting (: pls believe me. *innocent eyes*
Sunday (18 Mar)
went for dsta tea session and felt SUPER cheated loh! HMPHs. basically it wasnt a talk specifically for undergrad applicants. they grouped the junior college scholarship applicants PLUS the undergrad applicants tgt and the talks were basically quite repetitive and not as interesting as the discovery trail which they held earlier. my long hu bang time was robbed cos of that, but my lovely zen has the record function, so i managed to record it. shall talk about long hu bang laterr.
anw, the Q & A session was quite bad cos the ppl all dint dare to stand up, walk to the mike, and ask questions. like whyy so shy de. so it was quite dumb. evry1 just passed down their questions on a slip of paper rite to the front. i think ppl shd hav more common sense in asking questions. how wld questions like: what is the ratio of the ppl going to DSTA to the people going to DSO. i mean seriously how wld that affect ur scholarship application? even the DSTA and DSO chairmen hav no idea.
ok. the exhibits at the dsta tea session was slightly more passable. they were showing how they r protecting agst hacking against a comp, and to that, of cos, one of their technicians attempted to hack one of their comps from another comp. it was quite interesting cos they taught u some programs which u can use to get access to other ppl's comps. heeees (:
then the bad news arrived. i got SMSed that i had to go back to tekong the next day. like gosh. i thot POP was the last time i was ever going to set foot on the dreaded island. BOOO ): and apparently we were going back to sign a form. thats all. ):
okk. anw. long hu bang results were great. yanzi's ni guang literally shot. from 14 to 5! aiming for 1st this coming week. but quite sad leh. the song will be competing with mayday's tian shi, which i like too. ): bleahh. they will be fighting with each other and vying the champion position over the next few weeks. and OMG? the lousy zhang xue you song acherli made it to first. booos to zhang xue you!
Monday (19 Mar)
Went back to tekong, rather reluctantly. sobs. had to wake up early to catch the ferry. met the pes E recruits who just enlisted. haha. apparently their BMT is onli 5 days. like omg? wad kind of BMT is that. met all my platoon mates at the ferry terminal and we all set off for hawk company. hehhs. it feels diff not having to march down the lane back to our bunks, but of cos we arent complaining (:
Anw, guess what, we came back just for 2 signatures. sighh. the life of a celebrity ;) mei ban fa, my fans so re qing, hav to autograph for them. :P hehhs. met our PC and sergeants and chatted abit, then went to see the RO for the day. OMG? they hav 5 hrs of area cleaning and 1.5 hours of area inspection, ie 6.5 hours of slack time HAHA. is jealous. aft tt, we made sure all our forms and all were signed before we left tekong, for the very last time. yayyness (:
consilio et animis
3/23/2007 09:14:00 PM
Council Outing @ Marina and Esplanade
on to saturdayy. haha. my entries are coming along well (:
went out with councillors todayy (: it was supposed to be a fly kite + soccer + frisbee session followed by a steamboat dinner. turned out to be quite diff from expectations and there werent that many people who turned up too.
i had a hard time finding the meeting place cos there werent any specific instructions on the meeting place except: "alight from marina bay mrt station, take 400 and drop off at the big field". and so i dropped off at the first big field, which is marina city park. and it turned out to be somewhere 4 bus stops down. anw, for some reason i had a veri blurry voice tt dayy. cos i called
jun
and she said i sounded disturbed ):
aft a long walk ard the area and with some intuition, i finally reached the venue. its quite a nice spot for kite flying and there were so many people flying kites theree. how i wish i had a kite to fly too. for some reason i now associate kite flying with letting go le. there r so many shows that i watch which does tt. like zhen ming tian nv. jin zhi yu nie. anyway, i was looking for councillors flying kites but in the end i realised the councillors were onli playing soccer. sat with the councillors who were spectators and watched and talked abit before the soccer players stopped playing and we headed over to get a drink from the nearest food centre.
it was then that ppl started deciding that they want to eat elsewhere. all the diff suggestions started popping out and the typical long-wait-before-agreeing-on-an-eating-place ensued. wanted to go suntec at first, but in the end we decided on esplanade. but esplanade was quite ex, so we settled on makan sutra. met like tons of ex-RJ ppl on our way there. for some reason evryone bu yue er tong and headed to esplanade that dayy ;) the prices @ makan sutra were horribly repulsive too. like $4 for 2 slices of plain roti prata. and $4 for the smallest plate of carrot cake.
so we finally settled on marina centre, which was just across the road. besides, it looked like it was going to rain (it really did drizzle later). and aft reaching marina centre, we continued the process of deciding where to eat. we queued for kenny rogers and then when we were reaching the end of the queue, we decided we should all go to jacks place. hehhs. clearly, our efficiency parallels that of SAF. *coughs*
and so we got a nice VIP room in jacks place for the whole lot of us. and aft we settled down, the waiting process continued as we decided on what we want to eat. finally by like 8.30, we got our orders placed and was all ready for dinner! :D but it was quite fun lahh. cos we were chatting non stop all the wayy and catching up with each other.
aft dinner, we all paid for our share and GUESS WHAT. there was around 20-30+ dollars extra even though everyone paid just nice, or just a little more for their share. after distributing 1 extra dollar to everyone, we still had $7 extra. HAHA. weirdd. bet we chanced upon some money making secret ;)
anw aft dinner we decided to hav some ice cream. decided to go to this jap ice cream shop but evry1 dint feel like eating so in the end we had sundae at macs. hehhs. stoned there for a long time and then some of us decided to go to the toilet. and OMG. we chanced upon the aftermath of a gangfight. there was this guy who entered the toilet, his shirt all bloody and his head dripping with blood. he was just cleaning up the blood with lots and lots of toilet paper and dumping them in the sinks so the sinks were all bloody and gross. there was really a huge pile of bloody toilet paper it was really sickening.
anw. on my 2nd visit to the toilet, i actually saw some guys camping outside the toilet with glass bottles lohh. omg. and this is all happening outside a shopping centre. :o and i thought gangfights only existed in dark alleys. anw we went back to macs and continued chatting on uni stuff, about our frens, about army etc. we chatted till it was quite late and we all thought we should go home alr.
went home with
bryon
and
nat
on bus and sumwhere in the middle of my bus ride, i got a msg frm
ching
telling me that he actually saw a guy with blood stained shirt and a bandaged head with blood oozing out of the bandage walking around the MRT station. we figured it was the same guy as the gangfight guy we had encountered earlier on, like a few hours ago. omggg. he must have been quite a spectacle. i wonder if the MRT staff stopped him, or rather,
dared to
stop him. hmm. and why wasnt he seeking medical attn? :/
aft i reached j8, i walked back home alone even though
nat
's dad offered to fetch home, cos i had never walked home alone so late at night le. the last time was prolly like some late night council proj. it was a really fun dayy and i certainly hope more councillors will join us for our next outingg (:
consilio et animis
3/19/2007 10:02:00 PM
保护著我的天使
im back again continuing with fridayy. xing qi
WU
! hehhs. in the morn my mum and i went to exercise at bishan park. ran the length of the park and back abit so that i ran 2.4 in total. then did some circuit workout so i can keep fit. aft that we went for a short walk around bishan park, and my mum was telling me about all the things i had done at the park when i was young. then whenever we walk by this spot she would go:
do you remember, when you were young...
and she would then lead me down memory lane. haha. being reminiscent is a sign of aging ;)
then i walked by the swings at the playground and i suddenly had an urge to play but 2 old ladies were having fun on the swings and it was rather rude to rob old ladies of their moment of pleasure so i decided to give the swings a miss. my mum was telling me how i would always pester my parents to push me harder and harder so i would swing higher. and i would not stop asking them to keep pushing me harder. haha. if only i grew up with the same spirit, if you get what i mean.
went to visit the garden in the park and met this old lady who was digging on her patch of ground with a spade - just like what we do in army. what surprised me was the correct technique she used to dig up the soil AND she didnt need any gloves at all. going without gloves was a sure way to get blisters for me. anw, my mum chatted with her and she was more than happy to tell us her findings and xin1 de2 on gardening. she was also quite peeved that people just climb over the fence to rob her veggies, esp aft she spent months growing them. she despises these bu4 lao2 er2 huo4 ppl, esp if they are so well dressed. it totally tarnishes their reputation and image. i must say i agree totally on many points which she said.
after the park visit, we headed for home. then in the aft, my dad drove me down to IMM to meet
est
to see the mayday live qian chang hui (: we had a long wait cos mayday was so WOLS and late, and my observation of 933-organised events was correct. basically, 1 hour after the stated time, the 933 dj will come on stage and start entertaining the bored people. the celebrities will only arrive half an hour later. haha. this was proven true for the qian chang hui again.
got to meet my fave
PEIFEN JIE
(: haha. i must be the onli one who went there wanting to meet peifen more than mayday. okk. nevertheless, the qian chang hui was impressive. tried to take pics over the crowds' heads, but ended up snapping alot of ah xin pics. guess
est
wouldnt mind anyway :P oh. and there were many crazy people who could hold up a video cam to video down the whole thing thruout the concert. and somemore those r girls lehh. my arm definitely cannot survive keeping still for an hr holding a video cam lohh. and there r some hard core fans frm malaysia who came all the way down from malaysia JUST to support a qian chang hui. and they hav their special-printed mayday tshirts too.
mayday started with wei ai er sheng. it is a super good song to start off any concert cos it has lots of bao fa li. aft that was wo you chu lian le and lian ai ING. everyone was literally bouncing, jumping and waving. basically just getting high. err. mebbe everyone minus
est
who was stoning there HAHA. pls lohh. we r supporting a JUMP li kai di qiu yan chang hui lehh. wheres the jumping ;) anw mayday dint move on to my fave tian shi until somewhere in the middle. haha. but that song rocks. tian shi rocks. angels rock (:
像孩子依赖著肩膀
像眼泪依赖著脸庞
你就像天使一样
给我依赖给我力量
after 9 whole songs (a lot more than expected), the singing session was over and the autograph session began. thanks to my squeezing skills, we managed to barge our way through to get to mayday in a rather short period of time. BUT i missed my chance to take a photo with peifen jie ): boohooo. she was there like 30 seconds before i got to where she was standing. then suddenly she disappeared. the mayday-autographed album didnt even matter cos my main objective wasnt achieved haha. but anw i got to shake their hands but unlike
est
, i wasnt going crazy over the handshake. i bet she hasnt washed her hand till now.
by the time we got our albums autographed, it was around 9ish, and we havent had dinner, but oddly enough, we didnt feel hungry. i went polar to buy a curry puff, and then we headed to the jurong east mrt station and set off for home. haha. it was only then that
est
said she felt like jumping. like hello. dur the concert nv jump then when u r out in public le then feel like jumping. thankfully she didnt jump or i would have ran far away and pretended i didnt recognise her ;)
on my wayy back i formulated this cool HP theory cos i m getting so ever excited on HP! the wait is killing me! 4 more months to the final instalment. ): anw, heres my cool theory. spoilers alert :P for all u knw its true.
harry potter is a hocrux. so voldemort didnt really attack him, but instead left one of the hocruxes in him. cos according to the prophecy, either harry potter or voldemort will die. but if they want to kill voldemort, they hav to destroy his hocruxes, which means they have to kill harry potter. but killing harry potter fulfills the prophecy so voldemort wouldnt die. then the catch is that the prophecy actually refers to neville and voldemort (as some people suggested in ootp or hbp, cant rmb) so killing harry potter does not fulfill the prophecy and harry will have to be sacrificed for the death of voldemort, who wrongly thought that the prophecy refers to him ;)
haha. alritee. ignore the rantings of a HP fan :P
consilio et animis
3/19/2007 09:09:00 PM
POP!
shall stop procrastinating and start blogging my overdue entries lest i have to blog a week's worth of entries in 3 days' time. okk. so on tues nite we had to report back to camp and we waited 2 hours or so for bus cos the pes C privates just POP-ed and they were given bus priority. :/ went back camp, accounted for and returned our equipment, and then had a mini party before going to sleep at 1ish, 2.
it turned out to be a rather short sleep, cos i was awakened by a burning sensation on my thigh at ard 0330. basically, my platoon mates squeezed deep heat (a muscle rub which burns) on me. like omgg. haha. according to my bunk mates i was whining for a while HAHA. then aft that i suddenly got up and wiped off the deep heat and splatted it on the nearest guy who attacked me. so they got to see the whiny + violent side of me in one night HAHA.
cldnt sleep after that cos my thigh had a burning sensation. somehow i did fall asleep again, prolly ard 4+, and woke up at 5+ again. went for breakfast, then filled in some forms, then went for a short award ceremony. it was quite scary thoughh. cos weather was hot and
yuxuan
who was just standing behind me just fainted like that. after that, said goodbye to our bunks for the last time, and then went for lunch.
aft lunch we got ready for our POP! it was raining and ppl were praying that the rain would persist so we wouldnt have to do the marching and all but i was amongst those that wanted the rain to stop cos we had spent days practising our parade, it is simply not worth it to cancel it. :/ indeed the rain stopped and we all had a nice graduation parade (even though the reviewing officer took ages to make her speech everyone was complaining like crazy). aft that took lots of pictures, said bye to our commanders and all, and made our way back to mainland le! yayy for no more tekong! i can sayy i totally WONT miss this dreaded island, but i will miss the memories and the people. hopefully we will meet again in unit (:
then on thursday, i went for DSTA final interview in the morning. it was quite bad cos basically they were reluctant on supporting a pure maths student while i refused to budge on my stand of no EE. i argued quite a bit and all. but they did accept some of the stuff which i said. oh wells. i shall wait a mth later to see how the result turns out ;)
went to have my fave fishball noodles at my fave stall cos it was on the way back from home. had like 10 fishballs HAHA. my dad was rather horrified at the number of fishballs i could eat. :P aft lunch, i got back and started preparing to meet my
tutee
! (: i must sayy hes rather keen to learn, but i was seriously unprepared cos it was meant to be a chatting and get to know each other session only. but still i taught him maclaurins (:
i was sorta expecting the lesson to end in an hr, but in the end i took 2hrs in all to settle the syllabus and go thru his existing maths tutorials. whee. its quite funn but i realised there were many facts tt i had started to forgotten thanks to my rusting brain. but nvm! i hope the tuition lessons i conduct will help derust my brain (: looking forward to the next session where we will actually begin lessons! starting off with SHM *coughs* and graphing techniques.
shall continue blogging about the next few days in my subsequent entries (:
consilio et animis
3/18/2007 11:10:00 PM
the spirit of 逆光
booked out last nite to make up for us booking in last sunday. (: last weekend's bookout was really a rush cos we went discovery centre till 12ish and then had to book in at 6.30. it didnt even feel like a bookout. went home just to charge phones onli then had to chiong back to tekong again.
the discovery centre visit was really quite boring cos they try to make learning history hip with a video showing a rapped story of singapore, a simulation centre with a simulated terrorist attack and all. well, it was interesting but we definitely covered alot of that in SS and what ever NE stuff we had been through in our years of education and all that was on our mind was getting dismissed. the guy who led us was really freaky cos he could continue talking without stopping for like 15 min at one shot. everyone was trying really hard not to laugh lohh.
oh and just before we got dismissed, we walked by some kids and they pointed at our heads and were going: HA HA HA! botak heads! wahh. that really hurt. but nvm. their turn will come in 10 years or so. hmph.
so that was last week. anyway we had a super rushed bookout yesterday, so it wasnt exactly a very good day. not to mention
eddie
kept pestering with his rubbish. seriously i really hate it when people keep trying to hook up a topic with you even though they cant find one AND they are obviously not interested in whatever you say but just needs someone to talk to to satisfy their daily chat requirements. not to mention how
eddie
had been scheming away the whole of yesterday. bleahh. i seriously hope i wont get to meet him again.
got home quite late last night and brought back half the trash that belongs to me on tekong. tmr ill be graduating and bringing back the other half of the trash. but i expect the load to be heavier. and so our 9 week on tekong has ended. whilst there are many nostalgic memories on this island, i seriously would not like to see this island EVER AGAIN. i would miss the memories and the people but not the island haha (:
it will be my graduation parade tmr AFTERNOON. i really hope i dont faint under the hot sun tmr. it will be so embarrassing. ill just endure the afternoon and after this, good riddance to tekong and hi to a nice 1.5 week break (:
anw, i went to sch todayy to make certified true copies of my results. met cheekie who was in pink! haha. surprisingly met alot of j3s too. like evry1 bu yue er tong go baq sch todayy :/ it really feels good to be walking on school grounds again.
came back and did my uni stuff and read some books and checked out the latest songs. i am super addicted on yanzi's new song! and it actually went on charts last sunday! (: good job! haha. it is a song so full of hope (: which is like the meng bu luo kind of never-give-up spirit! (:
也许我一直害怕有答案
也许爱情仅在风里打转
离开释怀
很短暂又重来
有时候自问自答

我不要困难把我们击散
我责备自己那么不勇敢
遗憾没有到达
拥抱过还是害怕
用力推开你我一人留下

有一束光
那瞬间
是什么痛得刺眼
你的视线是谅解
为什么舍不得熄灭
我逆着光却看见

那是泪光
那力量
我不想再去抵挡
面对希望逆着光
感觉爱存在的地方
一直就在我身旁

我以为无路后退
反复证明这份爱有多不对
背对着你如此漆黑
忍住疲惫

睁开眼打开窗
才发现你就是光芒
!

有一束光
那瞬间
是什么痛得刺眼
你的视线是谅解
为什么舍不得熄灭
我逆着光却看见

那是泪光
那力量
我不想再去抵挡
面对希望逆着光
感觉爱存在的地方
一直就在我身旁
光芒
你是光芒
ahhh. this song makes me feel so hopeful and cheerie (:
consilio et animis
3/13/2007 04:47:00 PM
念鱼
as part of an effort to make my brain not rot, i have decided to be a little intellectual todayy and pay a visit to the library (: borrowed more sci fi books since im hooked on sci fi recently. hehhs. helped my mum borrow some books too and then i acherli walked home under the sweltering sun. i cant imagine how i did that. but i rmb i was thinking of my ippt and having to book in or something like that. so my mind was occupied and before i knew it i reached my block alr.
oh wait. my mind wasnt fully occupied dur this time. i walked past S&K during this time and so obviously my head turned ;) yeah but other than that i was lost in thoughts most of the time i dint realise i was under the hot sun until i reached my block and noticed i was sweating alot.
did some dips to train for my pullups tmr. doubt it will help thoughh. wish me luck ppl. hopefully ill pass tmr and get evrything over and done with, once and for all. (: aft lunch i was feeling sleepie and just conked out and had a nice afternoon nap. woke up and had a nice bath since i was feeling sticky with sweat. then went online a little before going for dinner and rushing to watch last ep of xiao yu er.
it was quite a disappointing last ep. the ending was quite complete and all, but then how yuyan died was abit unbelievable and dumb. and it was quite sad to see xiaoyuer look so old. haha. poor little fishie :P and it was rly dumb that he managed to recover after being a vegetarian for 6 years. :/
went to pack my certs and sort out the bag of scholarship stuff after watching the show. then i reluctantly packed my bag and folded my army uniform. and i didnt know i actually spent hours doing all that. the certs prolly took the longest time cos i was like looking at all my certs and reminiscing about them. eeks. ive been reminiscing alot huhh. dun tell me im growing old alr ):
consilio et animis
3/03/2007 10:59:00 PM
做最完美的我
a brief summary of my week in army. haha. it had been raining a bit and we had some activities in the rain. and rain + sand = mud. so we got rly cold and muddy aft that. it was a horror cleaning up our equipment. had more physical stuff this week. eeks. cant wait for everything to end on MAR 14!
then it was our ippt evaluation and re-evaluation. basically i failed both cos of pullups so my beautiful sunday morning tmr is gone cos i have to book in early for remedial training. booo. i was looking thru my NAPFA score last yr. OMG i did 9 pullups. and now i cant manage a miserable 6 to pass. where did my muscles go? ): BLEAHH! i want my sunday back! im missing long hu bang! ): and thats not all. becos of a lvls, we miss grenade throw SOOOOOO we have to book in next sat nite to go grenade throw on sunday ): thats 2 long hu bangs im missing in a row.
so basically aft i found out i have to book in on sun morning i was in this super depressed mood. thanks to
eric
and
tzeyi
for trying to cheer me up and my
buddy
for giving me hope that i *may* not have to book in. haha.
colin
even remarked that it was as if i was pms-ing. haha.
ok. so tts about it for army updates. i dun rly like to talk about army stuff outside army cos it is precious time for my civilian time. ): so when
hongfei
and
weijia
were asking me about army yesterday i just told them its super boring and theres nothing worth knowing and they were quite disappointed cos they were expecting interesting stories and the likes. went around sch with the 2 of them and met
yuxin
who just ended her lesson and was rushing off to get interviewed ;)
we then settled down in one of the classrooms to enjoy aircon. wanted to play cards but none of us guaikias brought cards so we just stoned until the 2 of them wanted to have lunch. hehhs. i had lunch alr before that and it was super nice! (: it was ginseng chicken soup. with real ginseng and herbs inside lahh. the chicken was so nicely brewed it was a bliss having that meal (: id definitely eat that again nxt time (:
k. so
hongfei
and
weijia
rly wanted to try out canteen food and i was like: errr. our canteen food is really bad i cant imagine ppl missing out canteen food. so i went and walked around, talked to ppl and then went back to find them, tgt with
ximeng
and
jiashun
. aft that there was an announcement asking us to go to the hall, where we had our last ever speech frm hodge and collected our results. i was rly tensed up before receiving the results! thanks
buddy samuel
for giving me a massage and soothing my nerves while i waited for my results! (: yayy i was so happy with my results and i found out my
buddy nina
got perfect score too (: haha.
samuel
said hes frightened by his 2 buddies!
thanks to all those who wished me luck before my results, including
buddy

brian
and my OG junior
lifeng
(: those msges rly made my day, esp when one came a few min b4 i collected my results! good job to all that have done well, especially
yuxin, zhaoyan, sergius
and
qianxiao
(:
went around talking to more ppl aft that and went to the council room. by then it was pouring really heavily. hehhs. i was super surprised when i entered council room. it was... NEAT. omg. the council room was NEAT! hows that even possible? ;) dint meet alot of councillors dur the council room visit altho i heard that
jun
was looking for me. :/ haha. i did want to look for her also but it slipped my mind. but nvm. im still so proud of you (: heard
josie
and
jun
did council interviews for the teachers aft that. goshh if onli i had looked for her then i wld hav been able to watch. it wld be sooo reminiscent.
headed off to
matt
's house aft that.
est
randomly remarked that it was raining that badly the last time we headed to
matt
's house too. haha. so coincidental! hehhs. played some mahjong @ his house, and had pizzas (
matt
's treat!) while watching huayang :P aft that played poker and this time u ppl rly witnessed wad it means when i play seriously huh ;)
rly quite yi yi bu she to go back cos i was so obviously winning :P but nvm. we can always hav another session dur the guys' block leave. then we shd waive
cheekie
's treat and treat
him instead, for all that he has done for us and for being such a great teacher (:
抬头看远方的星光
悄悄的照亮 
幸福的方向
紧抓这梦的翅膀
穿越漫长黑夜的荒凉
看见你在前方
拥抱我 一天天累积这感动
在心中 温暖了我的天空
consilio et animis
3/03/2007 10:42:00 PM