Kenneths 21st and Back to Work
went to celebrate
kenneth
's 21st last sunday. met up with
matthew
,
grace
and
vanessa
before that to make him a puzzle card. we wrote our messages on the card, then cut it out into many odd shapes, unlike a regular puzzle, so he would have to put in quite a bit of effort before he can read our birthday messages to him :D
anyway, the whole party was very well planned, and the food was good too (: met tons of random friends -- some from work, from army, from pri sch etc... so it was quite interesting to find out that i actually have so many mutual friends with
kenneth
!
zhaowei
also came
,
and he brought his gf along, and introed her to us.
after having our food, we had a photo presentation showing how
kenneth
grew up over his 21 years and how he met us along the way :D it was quite amusing and nicely done up (: following that, it was the special item prepared by his bro, which even
kenneth
had no idea about. we soon found out it was his bro acting as lady gaga. it was quite funny at first, but then it started to get a bit wrong as he tried to flaunt his body HAHA. and when the performance was finally over, we had cake cutting and gift presentation, and then people started making
kenneth
drunk haha. when we left, he had already downed 7-10 shots, poor him haha.
and that was the last day of my 3 week "break" from work. so im back to work this week, to tidy up my report and then ill have some time to myself to settle all my uni stuff before i fly overseas. but as it turns out, surprises come when u least expect it, and i think i can say goodbye to any thoughts of a break for the next 1 month or so already! its a pleasant surprise which i dont mind having, but it means that ill continue to be BUSYYYY ):
consilio et animis
7/28/2009 09:02:00 PM
PDC
my 3-week long predeparture course concluded last week with the scholarship award ceremony on saturday. looking back at the experience, even though it had only been a short 3 weeks, it was really fun and enriching, and i have grown in some ways after the course.
the fun came from OBS and cooking lessons. even though i had been to OBS several times, it was the first time i climbed the inverse tower there. seemed easy on the ground, but the spaces between footholds and logs seemed to be 10 times wider when u are actually up there haha. we also had some trebuchet making competition, where all the materials cost money and had to be purchased with points earned from the completion of team games. it was quite fun cos our trebuchet was built by this phy whiz so it actually worked :D and the finale was a sea ex followed by a land ex the next day.
for our cooking lessons, we went shatec, where we learnt how to make some really simple fool-proof dishes. so now at least im assured i wont starve... but of course, how nice the food actually is will be yet another story. oh yah i kind of cheated and teamed up with a cooking pro so "our" final products tasted quite delicious ;)
however, i felt that the most memorable part of my course was my 1 week community attachment with HCA hospice. quite unlike the other community service that i had done in my secondary school and jc days, working at hospice does not necessarily bring u the satisfaction which usually comes with helping people out. the patients are terminally ill, and many of them have only days to live. some of them are really discouraged, and merely lie in bed and stare blankly into space the whole day, when they could possibly be doing something more enjoyable. others are ridden with much pain because many of their organs are failing, and its really heart wrenching to see them undergo so much suffering.
the experience really makes me treasure what i have at the moment -- my health and my family members. and i am very impressed with the dedication which the doctors and nurses have displayed. they could be working in hospitals and clinics, but they chose to work in hospice, where they have a much larger job scope, which may even include helping to resolve family problems. most importantly, they try their very best to allow the patient to live their last days to the fullest. as their motto goes: we cannot add days to life, but we can add life to days.
consilio et animis
7/28/2009 08:32:00 PM
my internship experience (part 3)
im quite amazed at how much i have procrastinated on the blogging of my internship experience. but ive finally reached the final entry, and guess what, in 2 days time im returning back to my internship. ah. so i have timed my blog entries well. oh... but i have a 3 week PDC to blog about after this. my blog entries are terribly outdated.
anywayy... after much distractions, we finally reached national museum. we wanted to pose beside the thinker statue but could not find it. but we saw some rock walls outside the museum and decided to use the space between each wall as an "expression corner" for ourselves. so each of us thought of an action to do inside our own expression corner and here's one of the interesting photos:
haha i had a brainwave and thought of a theme for this photo: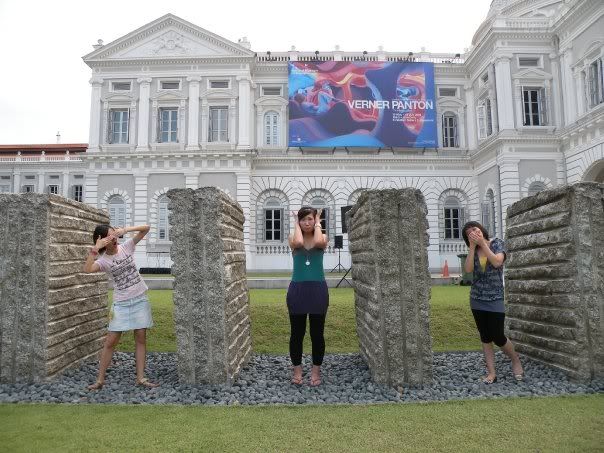 see no evil, hear no evil, speak no evil :K
after that, we began taking band photo shots. we will randomly group ourselves to form a band, think of a theme for the band, and then pose for a band shot. here are some of the shots which i thought were nice.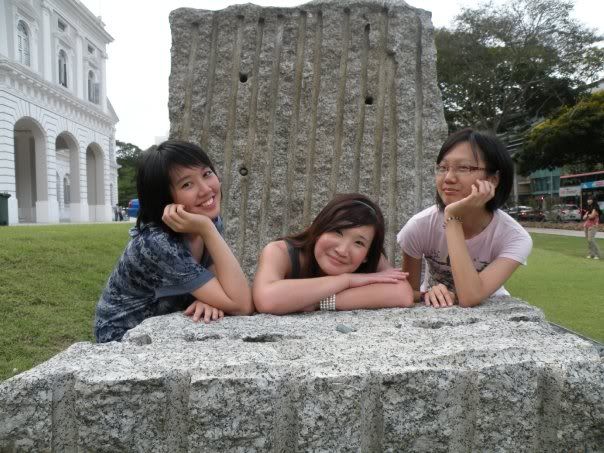 S.H.E album cover?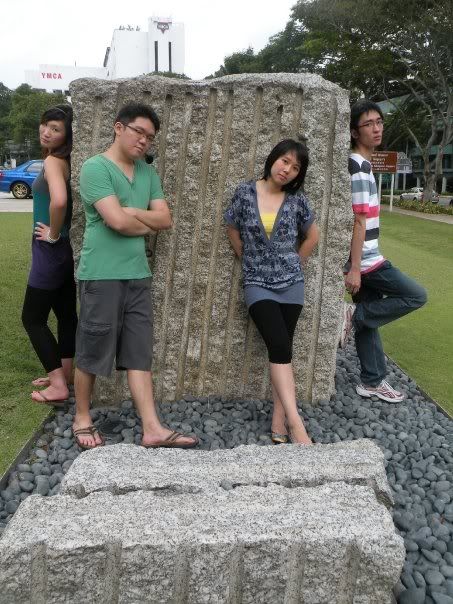 haha i thought i posed quite well for this photo... comments? :D
oh and here's our second attempt to squeeze the group onto a small space.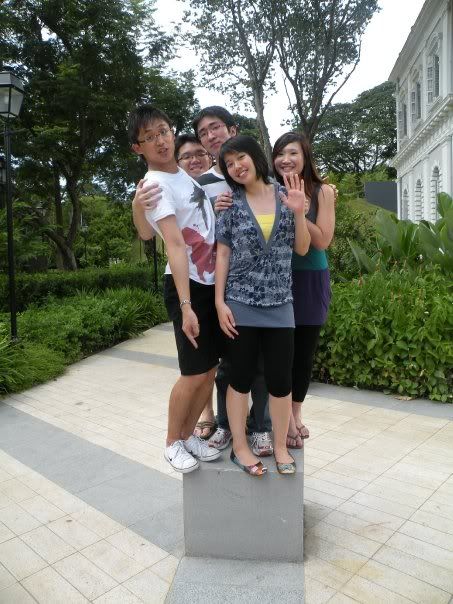 speak to the hand!
we ended our eventful day at fort canning park. it was at this point in time when our camera died on us and we had to take our last few shots with a camera phone. but it was quite amazing how long the camera lasted haha... we took a few hundred photos in one afternoon alone -- i think thats more than the number of photos i took in the past year!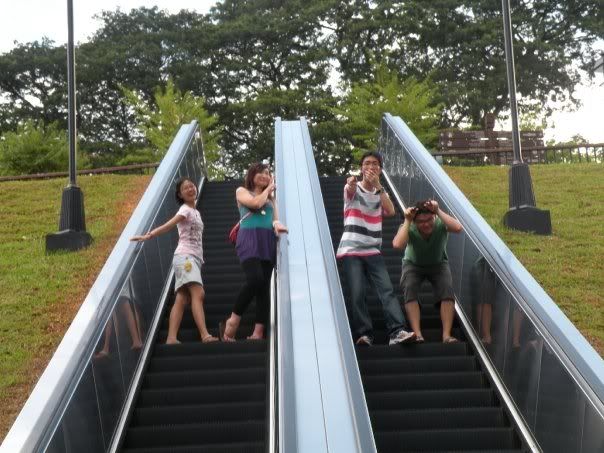 nice buddha shot... everyones well hidden!
of course, our internship is not all fun and play, just that i chose to feature the more entertaining moments we had together! we had individual projects to fulfill, and i am sometimes quite surprised to see how my fun-loving fellow interns can become super serious (especially close to the deadline!) when it comes to work.
apart from completing our projects, we also had the opportunity to assist in organising certain events, and sometimes the work can be quite stressful, but there will surely be someone to cheer the group up, and brighten up our day. im really blessed to have met such a fantastic group of fellow interns!
5 weeks of intern life seemed to fly by, and before i knew it, i had to say goodbye to my fellow interns and leave for my pre-departure course (PDC). here's some interesting parting shots which we took.
this is me reading out the cards which i wrote for each of my fellow interns.
and my fellow interns' messages for me! :D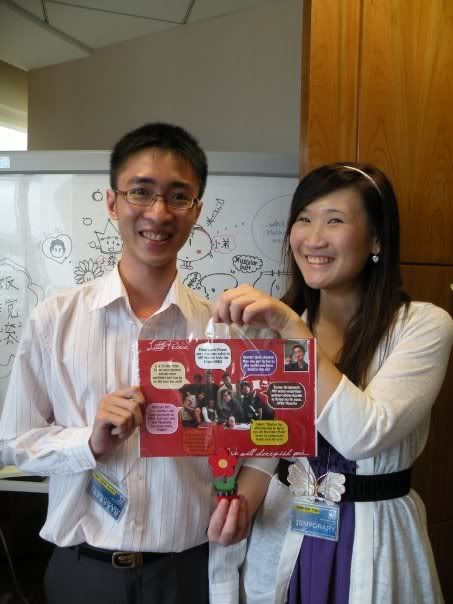 our drawing board featuring characteristic representations of all of us! uhh... i think i should be quite identifiable!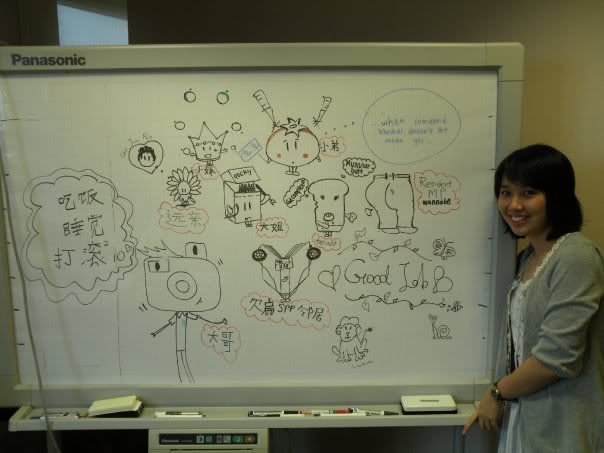 here are some funny parting shots which we took.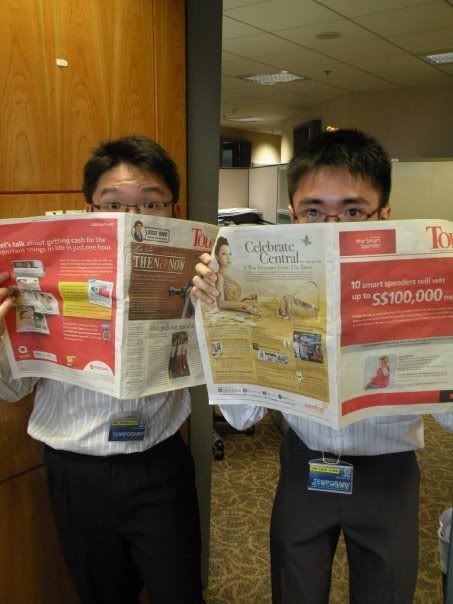 *lurks*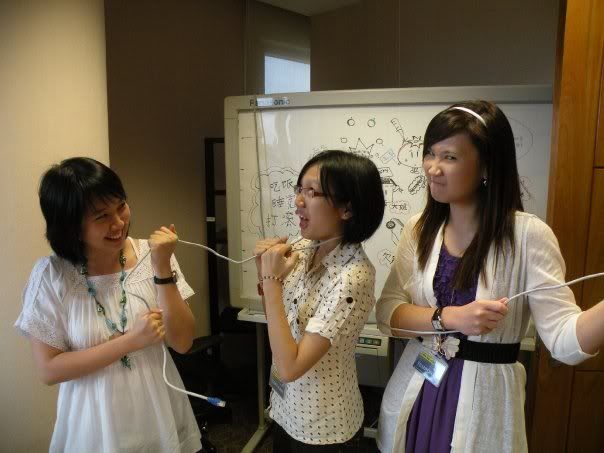 internship over! time to dispense of courtesies ;)
thanks for colouring my life!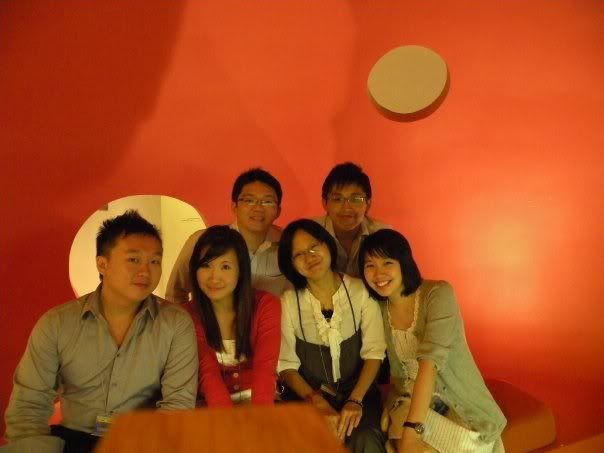 consilio et animis
7/24/2009 09:31:00 PM
亲爱的
instead of recommending emo / shu qing songs all the time, heres a cheerful and cute song for a change! a very light-hearted childhood memory kind of song. i particularly like the part where the children 合唱 :D
亲爱的 - 潘玮柏

我 叮咚的 弹奏着 故事里那首儿歌
缤纷的 音乐盒 木马还旋转着
我 叮咚的 弹奏着 童年的纯真快乐
亲爱的 这时刻 有梦就大声唱歌

我们迎着风边走边唱
边坚定来自于远方那坚定的信仰
沿着那溪边走 有水车的声音
我走着 看着风中摇曳可爱的蒲公英

经过凉亭 我们穿越竹林
看着山顶如棉花糖的白云
面对着阳光 就不需要那阴凉
拥有不同心境 相信你会看到更特别的风景

闭上眼睛 静静聆听
屋檐那串轻脆的风铃
许愿要找个流星
幸福就要彼此互相扶持互相关心

Oh 他们说 玫瑰 象征着爱情
那插满一把玫瑰花的花瓶
是否证明 不是不笃定
是不是真的有童话这件事情 hey

我 叮咚的 弹奏着 故事里那首儿歌
缤纷的 音乐盒 木马还旋转着
我 叮咚的 弹奏着 童年的纯真快乐
亲爱的 这时刻 有梦就大声唱歌

我们手牵手一直的走
紧紧的 相依的 努力攀过吊桥绳索
在脚下经过的一条蜿蜒小河
心里面联接的是满满友情难以割舍

整个山坡 苹果树已红透
还有干净泉水大口畅饮
橘子也成熟 田里面还有泥鳅
真的快乐 却是好多朋友陪着我们一起走

闭上眼睛 静静聆听
屋檐那串轻脆的风铃
许愿要找个流星
幸福就要彼此互相扶持互相关心

na hey--- 爱让我更自由
na hey--- 一起大声说出口
跟我一起手牵手 真心到永久
这就是爱的生活

我 叮咚的 弹奏着 故事里那首儿歌
冰棒呢 配可乐 爆米花还温热
我 叮咚的 弹奏着 童年的纯真快乐
开着车 遥远了 回到最初的选择

我 叮咚的 弹奏着 故事里那首儿歌
冰棒呢 配可乐 爆米花还温热
我 叮咚的 弹奏着 童年的纯真快乐
开着车 遥远了 回到最初的选择

我 叮咚的 弹奏着 故事里那首儿歌
冰棒呢 配可乐 爆米花还温热
我 叮咚的 弹奏着 童年的纯真快乐
开着车 遥远了 回到最初的选择
consilio et animis
7/24/2009 07:42:00 PM
my internship experience (part 2)
its been some time since i last blogged about my internship experience, and ill be continuing from the
last entry
.
anyway, we saw some pencil rubbing thing, and all grabbed a paper and crayon and started playing. heres a pic of us with our masterpieces :D
the proud artists (:
after that, we invaded the kids playground (oops!), and even the kids were giving us weird looks when we posed at the playground HAHA. we then left changi airport and took a train ride to town to watch transformers 2. before our movies began, we hung out outside at the ticketing counter area, and noticed many posters of upcoming movies. and so we began posing for photos again, trying to mimic the characters in the posters.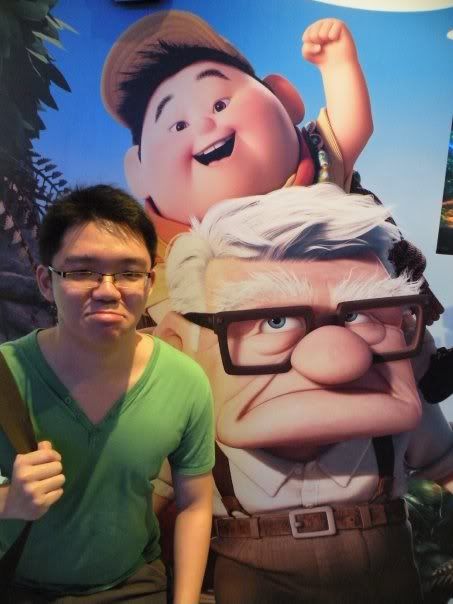 grumpy old man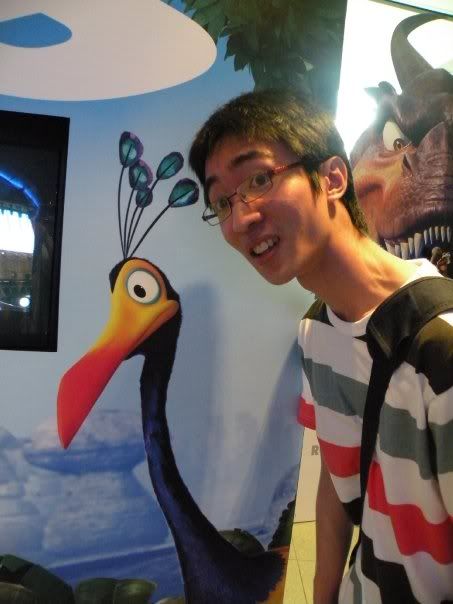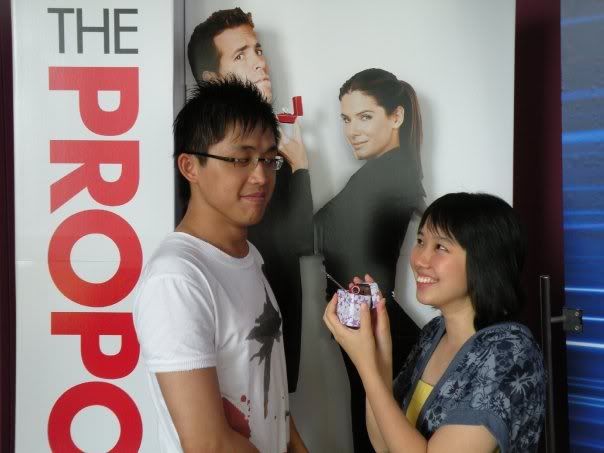 ok. about transformers 2, i felt that it was a rather draggy and plotless movie. the fighting scenes were exciting, and the effects were great and all, but i felt that it was all excessive. plot was kind of typical and expected too haha...
after the movie, we went around the town area to take pictures at scenic spots. our first stop was at istana park. we took several shots with the fauna around there, and also took group shots and several jump shots beside the water. it was quite amusing as everyone tried to coordinate their jumps :D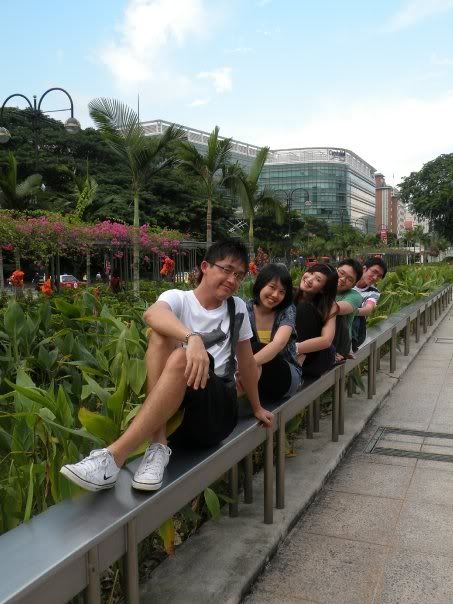 排排坐
welcome to istana park (:
jump shot!
after having much fun, we headed down to dhoby ghaut where we wanted to take a photo beside the LOVE structure outside fish n co, but apparently its been removed for some time already. but heres a shot which we took along the way, with everyone (the camera was timed) inside the picture. quite an amazing feat huh
like a team building game!
our next stop was national museum, and we continued our cam-whoring along the way. we also came across this wall leading to a carpark. there were many facial expressions on the wall and we each chose an expression and attempted to pose like it. heres me trying to give a dreamy pose HAHA. i think it was quite a failure though!
abstract :D
(to be continued)
consilio et animis
7/14/2009 11:10:00 PM
my internship experience (part 1)
friday was my temporary last day for my internship stint at MHQ. why i say "temporary" is because ill be returning to the place in 3 weeks' time, after my predeparture course, which commences tomorrow.
anywayy it was the last time i got to meet my fellow interns in our familiar working environment. ive really enjoyed my time at MHQ particularly because of their company, and really thank them from making my first experience working in civil service a colourful and memorable one. work at MHQ is quite busy and sometimes we may be loaded with a few tasks to juggle with at hand, but the important thing was, we had each other to seek advice and encouragement from, and to break the monotony of work life (:
other than the random fun we have daily, such as scouring for nice food in the region for lunch, and our HTHT talks, we had several activities together too! heres a chronological recount of the major fun activities we had (:
we had a nice dinner @ kuishin-bo, where we each took turns rushing for the special dish :D and then i discovered that some of my interns have a love for seafood just like myself! we chatted about lots of random things during the session and i got to find out more about my fellow interns.
we also had a pot luck session where we each had to bring a dish that we prepared ourselves. as i am terrible at cooking, i made pizza instead, by buying the pizza base, and the various ingredients, and making a DIY pizza. heres how our sumptuous feast looked like! (pizzas still not microwaved yet)
stuffed zucchinis... asparagus with bacon... shrimp cocktails... yummy!
let the feast begin!
following that, we had a kbox session where we sang lots of emo songs as well as high songs (: the favourite emo song of the night was 612 xing qiu, which is also one of my favourite SHE songs from the previous album, because it is about the little prince!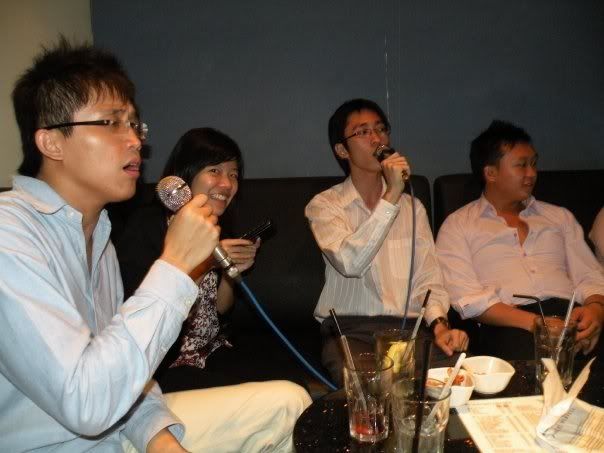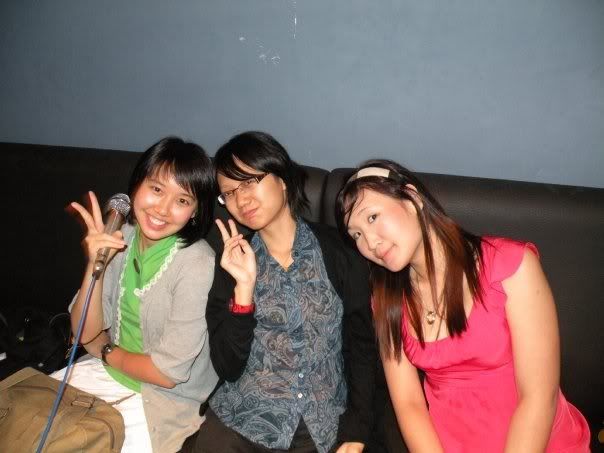 and on last friday, we claimed our off from the HT exhibition, and we went to changi airport to send our fellow intern, beryl, off to korea. we took random shots together before we bid her farewell, and then went to popeye's for a late breakfast / early lunch.
group shot (:
feeling energised after the meal, we decided to have some fun around the airport, and that was when my first major cam-whoring experience began.
(to be continued)
consilio et animis
7/05/2009 11:07:00 PM