Goodbye!
somethings terribly wrong today lah! in the afternoon i spilt half a jug of water. and just now i spilt glue over my comp ): bleah. i think im subconciously acting weirdly :S anw, the time has arrived for me to say goodbye. *waves* zai jian le.
consilio et animis
8/29/2007 10:33:00 PM
a day worth remembering
tues was my most fruitful day this week :D went city hall in the morn to meet up with
kenneth
and
grace
. was the earliest to reach there and sat down to write my teachers' day cards. i acherli dint notice
grace
arrive zomg. and waited for quite a while b4 i decided to msg
kenneth
and found out tt
grace
had arrived alr. she was like standing <5m style="font-weight: bold;">kenneth was late as usual TSK. aft he arrived, we went to watch a movie tgt. we wanted to watch Ratatouille but the sneaks werent up yet so we chose bourne ultimatum. booo cant watch cute rats :P 1048 looked nice too but it isnt up in the cinemas too.
bourne ultimatum turned out to be rather draggy, with too many running scenes lah ): but at least they showed alot more of the human side of bourne la. i thk the show is just passable onli lah haha. aft that, we headed to the arcade and played the bishybash challenge game hahas. where theres a list of many diff games for u to play. hehs. it was quite fun, esp the games where u had to spam the 3 buttons and the 3 of us just rammed on the buttons on the game console like mad :P
it was so fun we were quite reluctant to leave the arcade. but i still had stuff to do in sch so i had to leave ): on the way i went to kiddy palace to buy a magnetic drawing board for
ethan
. it was onli aft making my purchase that i realised that
ethan
prolly wont use it till like 2 yrs later? ):
headed back to sch to meet
est
. in the end she arrived earlier than i did even tho she came down all the way frm NUS hahas. zomg. tt was also partly becos it just rained and on my way to sch, i carelessly stepped into a huge water puddle and was trying to dry myself ): went to buy stamps when i reached sch, then went to comp lab to get the address to send my uni app to, b4 gg to find
cheekie
and hand him his tchers day card +
ethan
's gift :P
after that, chatted with
cheekie
for a long time and watched him explain probs to this girl. we also tried our hand at solving some of the probs which the girl raised. haha. i must say we were *quite* successful ba. saw
kristine ong
alot, walking between the staff rooms cos apparently the phy dept got banished to a new staff room hahas.
aft that, met
kamel
who told me his life as an instructor in OCS. lol. haha. then he asked
est
and i if we wanted to help out with his circular motion lecture later! hehhs. anw, to
est
, i checked out my chem bonding notes. the structure is called sawhorse OR seesaw so seesaw is rightttt ok! (: my brain isnt THAT rusty :P
went home at 6ish, then went to buy some sweets as morale boosters for my trg in taiwan :P headed back home, had a quick dinner, then had a 3+ hr final lesson with my tutee.
matt
tried to call me to talk abt ROC dur my lesson so i cldnt rly talk to him muchh. hehhs. anw, i miraculously cleared hypothesis testing + complex in one lesson with my tutee. all the best for prelims
bryan
(:
and so ended my fruitful tuesday :D it was rly a day worth remembering.
consilio et animis
8/29/2007 02:04:00 PM
AHM
had been quite bz the past few days so i havent been blogging. now that all my stuff is more or less settled, i shall blog about what happened in the past few days :D
on sunday, i had to wake up at an unearthly hour to go to the padang for the army half marathon run. hehhs. was in a blurry mode when i alighted frm my dads car, and there was a swarm of ppl in front of me, so i presumed they were all heading to the meetup point, and followed them. after walking for like 5-10minutes, the whole grp of ppl suddenly u-turned n i found out tt they were all following each other and ended up at the wrong place (the competitors' reporting point). so i retraced my steps all the way back b4 i found the non-competitors' meetup point.
there, i found out that they made us report 1 whole hour b4 the run. wahh. brilliant loh. sat down and wanted to take a short nap but in the end the place was so noisy i cldnt fall asleep ): finally, it was time for us to proceed to the start point and continue with our 12km run. (: ran with
congren
who pushed me alot along the wayy, so i rly dint stop at all dur the 12km. i had a personal target of 1h 20min but in the end, i missed my target by 13 secs, reaching the end point at exactly 1:20:13.
met dawn yeo at the end point! she was in army singlet n we were wondering whyy. haha. anw she doesnt look as good as on tv in bao jia wei guo. which was quite disappointing. hahas. dint bring like notepad or writing stuff so dint ask her for her autograph. LOL. after that, felt like eating ice cream and bought 2 mango ice creams. haha. i thk i ate >10 ice creams this whole week alr O_O
after that headed home, n on the way, i saw this poster advertising GODIVA CHOC MOONCAKES! ahhh. it reminded me that i will be missing the mooncake festival this yr. bleahh. haha. wonders how the godiva choc mooncakes will taste like. apparently i havent woken up yet, cos i hopped onto the wrong train after tt, and had to chg trains at the nxt station. hahas.
listened to longhubang for the last time, then had my 2nd last lesson with my tutee in the afternoon. aft tt, we had to book in at nite cos we had flight briefing the next day. so on monday, we had half a day of briefing, then we had our bags inspected b4 we booked out to have a 2 days' rest b4 leaving for our trip.
consilio et animis
8/29/2007 12:36:00 PM
1300
a week of administrative work to settle b4 we leave the place. unlike in SISPEC, i actually miss this place and the bunk here. we had to settle all the stores and vehicles to hand them back to the school. it was tedious work, but its prolly the last time we will do this kind of tedious work in camp again, so we sorta enjoyed it to a certain extent hahas.
had quite a few lectures, with canteen breaks in between. i suddenly had a chocolate craving this week and bought lots of choc ice creams and choc bars during canteen breaks. zomg. ate 1 choc ice cream each day, and sometimes even 2 when i felt like it. spent like close to $10 at the canteen this week on CHOCOLATE. zomg.
came back rather late on fri but was in no mood to work on PS, so i left it till sat. spent the whole day doing my PS on sat, then watched campus superstar on sat night. YAYY. the guy and girl i supported were both champions :D however, shawn's performance was very disappointing on sat. even benjamin did significantly better than him. plus shawn had this pouty grumpy face on saturdayyy. :/ i was hoping for keely to win the overall champ but shawn won it in the end. hehhs. YANZI was also the guest for the night, and sang 2 of my fave songs: ni guang and wo huai nian de (: haha. it was a very impressive performance, just that i was too focused on noticing that yanzi seemed like an ah soh with her new haircut hahaha :P
阳光越过窗沿
我在阴影里面
才过正午13点
就漆黑一片

consilio et animis
8/26/2007 09:45:00 PM
GOOD LUCK
been working on my PS for the whole of today. hehhs. just popped on to say GOOD LUCK to KEELY and SHAWN laterr (: jiayous (: shall blog abt my week another time HAHAs.
consilio et animis
8/25/2007 06:52:00 PM
CRAB FEAST (:
yesterday was a great day. firstly, i watched bu neng shuo de mi mi. even though this is jay's first attempt, the show is rly good. it has a good plot, and jay pays attention to lots of details in the show, with those little snippets that make u go awwww. (: one eg is the scene where gui lun mei asks jay why he plays piano with only one hand. and he replied: becos i want to hold your hand with the other. (:
there were also many cool piano playing scenes in the show, esp the piano battle. if u dont like the plot, ull at least like the piano playing (: overall i give this simple but beautiful love story a 4/5!
in the afternoon, went to popular to chck out some txts and saw this huge tower in j8 that was entirely made up of jacobs biscuits. haha. took a pic of it but is too lazee to upload :P but its rly impressive. whoever did that must have spent ALOT of effort! aft that
sheenie
s parents picked me up and drove us to the shop where we were gg to hav our crab feast! yummie. was rly looking fwd to eating crabs! we initially wanted to go east coast for our feast, but due to a change in plans, we changed to this stall which we found on a food blog. the crabs looked really good on the blog, so we decided to give it a try (:
ordered the crab tang hoon first. when it arrived, we tried the tang hoon and WOAH. it tasted different from the normal bee hoon kind of noodles cos it was thicker and more springy. plus u could really taste the crab in the tang hoon itself! eating that alone was satisfying enuff!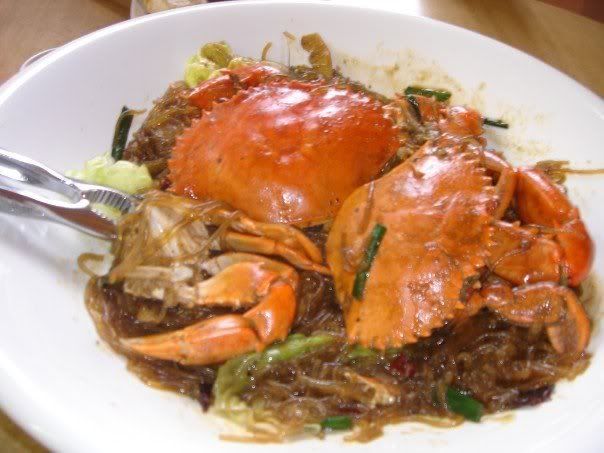 then we moved on to the crabs. WOAH (: they were marvellous loh. did i mention? we had 2 full crabs for the tang hoon! hehhs.
sheenie
had much difficulty breaking the shells and legs of the crabs at first, and i realised i could acherli break them quite easily! shows ive been training rly hard in army huh ;) but she eventually got the hang of how to do it anw, and we had an enjoyable time fishing out the crab meat from the various crab joints with our chopsticks (:
after the crab tang hoon, we were still quite hungrie, so we decided to order another crab dish (: we decided on black pepper crabs. OMG. mentioning the black pepper crab alone is alr making my mouth water loh. anw, the black pepper crab isnt officially on the menu but the guy tried to make it for us anw. basically over there, u can request for whatever dishes u feel like eating, and the guy will try to satisfy ur requests (:
back to the black pepper crabs. heres a pic of it:
ok the pic is a bit blur cos by then time we ordered our 2nd plate of crabs, our hands were quite dirty alr and
sheenie
was unable to take a good pic of it. hehhs. the guy was quite surprised when we ordered another crab dish anw cos we alr had 2 crabs :o haha bet he wasnt expecting us to eat so many crabs at one go :P
the first thing i tried when the black pepper crabs arrived was the sauce. the sauce is really good loh, and that was the main highlight of that dish. so we continued feasting on our 2nd plate of crabs, dipping the crab meat into the nice black pepper sauce (:
hehhs. by the time we finished the crabs, we were rly satisfied (: i was alr quite full but
sheenie
was still a little hungrie and wanted to try the butter prawns so i went to ask anyway. and OMG the guy was so honest lah. he acherli told me that the prawns werent tt fresh and told me to make a call to place an order the nxt time i come so he can prepare fresher ingredients. so we didnt order the prawns in the end. haha. anw by then i can imagine myself looking rly dirty and messy HAHA. plus i wore a white shirt so it was stained quite a bit. bleahh. ): i shall rmb not to wear a white shirt when i go to eat crabs nxt time (:
aft the meal,
sheenie
s parents picked us up again.
sheenie
s mum wanted to giv me an ice cream treat b4 i leave spore, but i was rly full so we didnt have the ice cream in the end. but its rly nice of her to offer anw :D yayy. was rly pleased when i reached home. this will def be one of the best meals ill hav b4 leaving spore. (: (: (: i want to go there again, esp since its so near to my aunts home. even tho its my EVIL aunts home. :S
on a random note, heard
chong qing
on 933 telling ppl to go watch this video on youtube which features him and
jiahui
singing a revamped version of the national day song. its rly funny so if u r bored, do try: http://www.youtube.com/watch?v=02uu0KSFRkY (:
consilio et animis
8/19/2007 02:33:00 PM
nasty surprise
our section training officially started this week. sleeping time has been cut alot, since we often have to wake up very early to prep for moving out. and when we reach back camp at night, we have to dismount and take down the stuff, and account for them, only to mount them back up the vehicle again the next day. its a tiring, tedious and boring process, but its rly sian before n after an outfield training. by then time we hit our bunks, take off our camo cream, go take a shower, its almost bed time le. RAHHH hates outfield training ): ok. as
sheenie
says, im just whining for the sake of whining HAHA. RAHHHHH.
the good thing is, we r not staying outfield just yet. well. but a nasty surprise popped up this week and suddenly, i can say goodbye to a nice bunk and hello to the forest + camo cream (which i HATE totally zomg). ppl r complaining how they r getting pimples thanks to the camo cream HAHA.
at the end of the week, we prepped for flotation and we got to use new vehicles - the ones that were paraded from NDP! woahh haha. the vehicle is like totally new, with dust+mud free seats and control panels. hehhs. and the equipment were all still wrapped in plastic bags. so COOL (:
we had to drive our vehicles in the water. it seemed quite scary at first, cos i was afraid that the vehicle would just suddenly break down in the middle of the water and we will have to activate the rescue vehicles. hehhs. but it turned out to be quite alrite. we got to ram on the accelerator to the max in the water to overcome the water resistance. hehs. if u r on top of the vehicle, u can rly feel the water pressure pressing agst the sides of the walls of the vehicle. :o on the whole, it was a rly good experience (:
consilio et animis
8/19/2007 02:08:00 PM
24 hours
forgot to blog abt nights off the day before we booked out on wed. we had a rather lousy nights off on tue. i know ppl will be saying:
wahh, u have nights off le still complain, de cun jin chi
. haha. but u must note that our camp is super ulu and travel time alone takes at least 30 min. and to make things worse, we had NIGHT SNACK indented which we must consume before we could leave. so by the time we could leave, it was 7+, and we had to book in by 10ish, so we couldnt even watch a movie ): bleahh.
wanted to watch disturbia to freak myself out HAHA. but sadly we cldnt. ended up playing at an arcade where i got owned at daytona :/ then we played this kiddish chi game which had different fun tasks which u had to perform. finally we played air hockey. wahh so long nv play le, must da zhan shen shou. hehhs. anw we were whacking the discs super violently lahh :P
then we had bubble tea followed by pool. on our way back, met
sergius
. hehhs congrats (:
now on to yesterday. we had live firing yesterday so our saturday was burned. woke up at 3ish on sat and we returned to bunk at 3+ this morning so essentially we didnt get to sleep for 24 hrs. ok lah. i did manage to find small pockets of time to sneak some snoozes, but that was abt all :/
live firing was fun, even though its super ma fan to prep ): during the firing u can see the barrels fly into the air and at nite, ur tracer rounds look like fireworks. HAHA. it was a really fun experience, but the packing up and stuff wasnt very organised and as a result we returned to camp real late and didnt get much sleep. had brekkie at 5ish this morning and booked out aft brekkie. didnt want to sleep at home, but ended up conking out anw and missing part of longhubang :'(
and now i have to book in again ): field camp this week zomg. say hi to pimple cream ):
oh on a random note
ah kang
left for cornell todayy alr. best wishes and enjoy your life thereee (:
argh. and i want to watch bu neng shuo de mi mi, but no timeeee ): booooo ):
consilio et animis
8/12/2007 09:21:00 PM
Happy National Day! (:
yayy happy birthday singapore (:
lets all feel patriotic today! *coughs and looks at someone who apparently forgot the lyrics of the national anthem + forgot the chi pledge* haha. wanted to wear red and white back to camp. but thought against it HAHA.
supposed to have outing @ amandas house today but our book in timing is disgustingly early today ): and her house is at tanah merah while my camp is at sungei gedong. zomgz. i missed the last chance to see evry1 before they all fly off. hopefully there'll be lots of pics HAHA.
anw, the early book in is becos we have SOC tmr. had trial test on mon and i was like so breathless frm the running. bleah. im quite sure i cant pass it and im already wondering what will happen if i fail SOC right till the end of my course, and thus failing my course. :/ ppl keep telling me that i can pass SOC de, but my timing had been stagnant for a long time alr. thanx to those who keep encouraging me anw, esp my bunk mates, who stood under the hot sun to cheer me on evrytime i ran past them.
consilio et animis
8/09/2007 07:21:00 PM
永远的快乐
quite an ok week this week. on mon, had ippt and scored a silver which means i have to keep training to get my gold. ): bleahh. why cant they see that ill nv ever be able to get a gold. fang guo wo ba! ): at least i got $100 for my silver ;) SOC test next week and i am so going to fail it. bleahh. then i wont get my 3SG pay which is $300 more than my current pay. boo. and ill go thru the whole course and fail it. SOC is the bane of my life lahh. RAH ):
anw, we got to book out on wed nite cos we had a celebration at bukit batok civil service club on thur, so evry1 was veri happie (: hehhs. the celebration turned out to be very boring cos if u arent a participant, u hav almost nothing much to do at that lousy complex. but in the end, after the bowling tournaments ended, we got to play bowling. haha. got trashed rly badly zomgz. so diu lian CAN!
the ride back was disgustingly long. i fell asleep halfway, and when i woke up, ZOMGZ i was still on the train ride loh. hehhs. went back, packed my bag, and got ready to meet my aunt at taka. went to the hello shop there to subscribe to a plan and got a new phone too (: like it alot cos its small and its a clamshell :P YAYY (: too bad it has a cam so i cant use it in camp. but ill be using it dur weekends. its quite ez to use aft all ;) and btw, my number has changed! if u do not have my new no, pls chck with me on MSN (:
came home last nite and immediately went to check out ah meis new album. i love ru guo ni ye ting shuo loads! and wei duo li ya de mi mi (: (: (:
consilio et animis
8/04/2007 09:00:00 PM