My new favourite band - Tizzy Bac! :D
didnt really think much of Tizzy Bac at first because of their cartoon-ish album cover, but after listening to the songs, I find the band really talented, and their lyrics sometimes have a deeper meaning. Their MVs are also quite amusing! i like these 2 MVs.
The MV of the song <铁之贝克> is super cute :D Haven't seen such a cute MV for a long time!
This is the MV of their 同名主打, <如果看见地狱, 我就不怕魔鬼>, which is also my favourite song of the album (:
如果看见地狱,我就不怕魔鬼 - Tizzy Bac
夜 深沉浓郁那么黑
我不敢闭上眼入睡
我的寂寞变成魔鬼 在床边
Then 我只好假装看不见
我只好假装有人陪
恐惧气味太明显 (太明显)

我瑟缩在墙角 有人...
我不该穷紧张 这世界好大...
还有恒星仰望 宇宙可以信仰

我的身体是个大房间
我自己却不在里面
生命里幽暗好多 吓坏我
对 大概就这样失了魂魄
大概这样才回不了窝
这是哪里我是谁 (你是谁)

我瑟缩在墙角
有人在哭 哭声却很像我
窗外有人 到底有没有人...

我不该有惧怕 这世界好大...
还有恒星仰望 宇宙可以信仰...
我在夜里破碎 天亮时憔悴
重复诅咒忧伤
"I don't love you,
not even miss you, not anymore."

我不该穷紧张 这世界好大...
还有恒星仰望 宇宙可以信仰...
我不想又在夜里破碎 天亮时憔悴
就得重复这咒语
"I don't love you,
not even miss you, not anymore."
consilio et animis
4/29/2009 08:21:00 PM
heroes finale (:
stayed up to watch finale of heroes yesterday, and it turned out to be not as exciting as i expected, as there was a lack of action scenes, but at least it tied up several loose ends. i was quite neutral regarding the season 1 character they killed, but am quite sad that my favourite character, hiro, didnt get cured. that means he will be carrying the illness with him on to volume 5. seems like they are putting to a stop to all the time manipulation thing. i think the writers did mention before that time travel does mess up things quite alot, but i hope at least they will allow freezing of time.
generally, i was pleased with the finale, and they even set up the story nicely for volume 5, so im looking forward to an even more awesome season this coming september! but that's in 4 months' time... i think ill be suffering from heroes withdrawal symptoms pretty soon ):
on a side note, i realise the weeks have been whizzing by quite quickly. in a flash, my relief teaching stint in RJ is almost over... i really dread the day when i have to say goodbye to my classes ): how i wish i had hiro's power and can slow down time HAHA
consilio et animis
4/29/2009 07:42:00 PM
seed of chucky!
just watched chucky 5 on channel 5. i followed the chucky series from 1-4, but missed the seed of chucky when it came out in the movies, and ive always wanted to watch it. turned out to be quite a lousy show, as compared to the previous instalments. the plot involving the new child was quite irrelevant, and the deaths were less gruesome (ok, i sound sadistic saying that, but that's the point of watching chucky shows right), so i was quite disappointed.
haha and since i resolved to finish marking my scripts before the day ended, i was multitasking and marking during the commercial breaks, and i finished marking the first tutorial tests which i administered :D i noticed, to my surprise, that the top scorers of all my 5 classes are all girls. which makes me wonder why there is only 1 j1 girl in the maths society. just a random thought haha.
consilio et animis
4/26/2009 12:23:00 AM
marking rants
ive just conducted my first ever tutorial test this week, and im in the process of marking the scripts! i think i have slightly over a hundred scripts to mark, but its really quite fun marking. in less than a day since i started, im now 90% done with my marking! so i should be able to finish really soon. i think what drives me to continue is to see some of the amusing answers which students write (sometimes due to stressful exam conditions). below is an excerpt of an answer which at least 3 different students produced:
ok i personally thought that was quite creative.
anyway, i managed to successfully stay up last night to watch survivor, and im so glad i did! it was probably the most awesome episode of this season of survivor! as much as i find tyson an interesting character, i think he was overly mean towards sierra, and he deserved to be blindsided last night. and the look on coach's face is priceless!
finally, we see some much awaited payback for the cockiness of the warrior alliance. all this while, ive been feeling that things have been quite unfair for sierra. right from day 1 she got ostracized, and was never really able to get into a strong alliance. and when she finally did, her only ally got voted off. and she didnt give up immediately when brendan left, which was quite admirable. she continued to fight to make a comeback, yet people around camp were just so mean to her and made snide comments. im just so happy that sierra was saved, and i really hope she goes against all odds and make it to the final 2 or 3 (:
consilio et animis
4/25/2009 03:06:00 PM
council camp 09
went for council camp yesterday! its the last council camp ill get to visit in a few years, so i surely could not miss it. at first, there were only us 25ths around, but gradually, the 26ths and 27ths started streaming in. we were still commenting how we were the oldest around when the 24ths all dropped by together! it was nice catching up with my fellow councillors.
the council teachers have changed alot... only ms eva hor and ms kristine ong are left amongst our batch of council teachers. but ms hor is on sabbatical, so that leaves ms ong as the most senior council teacher around. she told us that our old council room is gone, and so were the furniture which we purchased. the new council room is in the estate room, and it is smaller than before, but still as messy. at least theres air con too, but doesnt seem as cosy as last time.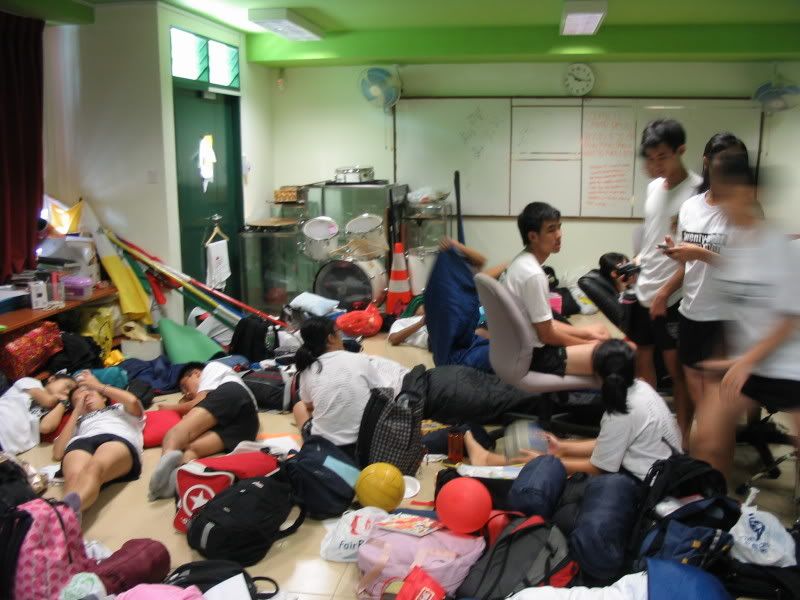 new council room!

darren
and i went to look around our old council room, and noticed that the cubby holes are still around HAHA. we commented how amazing it was that those cubby holes are now empty, when it used to be an impossible feat to clear them. couldn't find any jives around though. wanted to look back at what kind of nonsense we used to write during our term haha...
we also looked at the programme for council camp, and commented how much slacker it is now than before. but then every batch of councillors would tell their juniors the same thing. and it is indeed true. the activities now are really much less physically demanding than before. and several highlights are gone, which is quite sad... they do not get to enjoy sunrise at the rooftop, nor do they get to do dragon boating anymore. i felt that those were 2 of the nicest highlights of council camp.
after that, the councillors all went off for buddy lunch. sadly, my 24th buddy is in australia, and one of my 26th buddy is busy while i was unable to contact the other.
darren
had somewhat the same situation as me, so in the end we crashed
lizhan
's buddy lunch. oh and i found my 28th, and gave her my no, but forgot to ask her to give me a miss call, so i didnt get to see my 29th after that when they met up.
after lunch, a few of us 25ths went for our karaoke session.
charles
was driving as usual, but he was fetching a few others home too, so we squeezed 5 people in the back seat. after dropping his buddies off, we headed for karaoke at
charles
' super zai clubhouse. we call it super zai because the cost is lower than kbox, yet the song list is more extensive than kbox!
as usual,
wes
would select all the li sheng jie songs, which are a real challenge to sing. i tried singing some new songs, but i think i failed horribly at zui xing fu de shi! i guess liang wen yin is just too good for me to sing her songs well. we also sang xia yi ge tian liang, and
amelia
and i agreed how well the little boy sang that song on campus superstar finals. so touching, almost comparable to guo jing's rendition!
one song which i liked alot was mayday's ru yan, which i posted in my previous entry. i realised there are no repetitions in the entire lyrics, and when u actually sing that song, you have a 感触良多 kind of feeling! i still like the rose part of the lyrics the best...
有没有那么一朵玫瑰
永远不凋谢
永远骄傲和完美
永远不妥协

oh and we sang the 12 minute leo ku song too! haha. i was so out of breath at the end of the 12 min, but it was fun! luckily this week there's tutorial test - thats one lesson down, so i wont have to speak that much. otherwise, i think my voice will surely be gone by the end of the week :D
on a side note, ive just heard gigi's new album, and i really like it!
its probably my 2nd most favourite album of the year (so far), after cheer's tai yang album.
recommended songs:
ai de qi, cuo guo, li wu, abcdefGG
consilio et animis
4/20/2009 09:42:00 PM
有没有那么一朵玫瑰永远不凋谢
nice lyrics, but i didnt like the tune the first few times i heard it last year.
如烟 - 五月天



我坐在床前
望着窗外回忆满天
生命是华丽错觉
时间是贼偷走一切

七岁的那一年
抓住那只蝉
以为能抓住夏天
十七岁的那年
吻过他的脸
就以为和他能永远

有没有那么一种永远
永远不改变
拥抱过的美丽
都再也不破碎
让险峻岁月不能
在脸上撒野
让生离和死别都遥远
有谁能听见

我坐在床前
转过头看谁在沉睡
那一张苍老的脸
好像是我紧闭双眼
曾经是爱我的
和我深爱的
都围绕在我身边
带不走的那些
遗憾和眷恋
就化成最後一滴眼泪

有没有那么一滴眼泪
能洗掉後悔
化成大雨降落在
回不去的街
再给我一次机会
将故事改写
还欠了他一生的
一句抱歉

有没有那么一个世界
永远不天黑
星星太阳万物都
听我的指挥
月亮不忙着圆缺
春天不走远
树梢紧紧拥抱着树叶
有谁能听见

耳际眼前此生重演
是我来自漆黑
而又回归漆黑
人间瞬间天地之间
下次我又是谁

有没有那么一朵玫瑰
永远不凋谢
永远骄傲和完美
永远不妥协
为何人生最後会像
一张纸屑
还不如一片花瓣
曾经鲜艳

有没有那么一张书签
停止那一天
最单纯的笑脸和
最美那一年
书包里面装满了
蛋糕和汽水
双眼只有无猜和无邪
让我们无法无天

有没有那么一首诗篇
找不到句点
青春永远定居在
我们的岁月
男孩和女孩都有
吉他和舞鞋
笑忘人间的苦痛
只有甜美

有没有那么一个明天
重头活一遍
让我再次感受
曾挥霍的昨天
无论生存或生活
我都不浪费
不让故事这么的後悔
有谁能听见
我不要告别

我坐在床前
看着指尖已经如烟
anyway, i went for a freshers mingle today for the cambridge freshers. got to meet a lot of my future college mates, and theres already one whos going to my same college and studying the same course as me. which is actually quite rare haha. also met a few of my juniors who are now my seniors haha. and they shared lots of interesting information about cambridge, so i cant wait for my term to begin :D
consilio et animis
4/12/2009 05:29:00 PM
欢送会
theres a number of new songs that are released recently! after the release of jolin's album, zhang zhi chen, xie an qi, charlene, dong li huo che and by2 have also released their new albums, and there are a couple of nice songs in their albums (: angela also has a new song for a chocolate ice cream ad (i think), and next week, we can expect soda green and vanness' new songs :D really looking forward to all these new songs! but for now, i am addicted to 2 new songs, which are vastly different in genre.
firstly, there's BY2's DNA! they have certainly improved in terms of dancing and singing techniques this time round. their vocals are still fairly average, but at least they are trying out new styles, and can at least do some rapping. and i dont really bother much about vocals for a dance song, so overall, im pleasantly surprised by BY2's first hit, DNA!
DNA - BY2
眼 还在偷瞄些什么 口在碎碎念什么
不能说的秘密还哽咽在喉咙
你的戏演的好弱 你的招术又好旧
So tell me baby what're you waiting for?
早就该自首 早就应该知道情网恢恢疏而不漏的
强词了太多 没有用

瞳孔缩放掩不住爱情的计谋
指纹在我手心里留下你的心动
DNA说明了你动机跟理由
证据摊在你面前 还有什么话好说

你的戏演的好弱 你的招术又好旧
So tell me baby what're you waiting for?
早就该自首 早就应该知道情网恢恢疏而不漏的
强词了太多 没有用

瞳孔缩放掩不住爱情的计谋
指纹在我手心里留下你的心动
DNA说明了你动机跟理由
证据摊在你面前 还有什么话好说

瞳孔缩放掩不住爱情的计谋
指纹在我手心里留下你的心动
DNA说明了你动机跟理由
证据摊在你面前 还有什么话好说

瞳孔缩放掩不住爱情的计谋
指纹在我手心里留下你的心动
DNA说明了你动机跟理由
证据摊在你面前 还有什么话好说
the next song im going to recommend is xie an qi's huan song hui, which is a nice ballad. it was originally a cantonese song, but due to its high popularity, xie an qi decided to sing a mandarin version for her latest album! the lyrics are nice, and xie an qi's voice is very sincere, so i got addicted to this song the first time i heard it (:
欢送会 - 谢安琪



来的人已经来 我们干一杯 祝福你未来
有人说 那年的耶诞 派对同样精彩
有人说 明天的时代 要拭目以待
试问谁能残酷坦率表白 当下的无奈

有人提议说 来一个游戏 预言的纸牌
很奇怪 命运的轮胎 任由扑克安排
欢迎会有新人到来 欢送会有故人离开
不要猜 为了喝得更愉快 最好不要太明白

离开的要离开
过去的喜怒哀乐喝下多少杯
多少祝福语一句一句走过人间的澎湃
成为你的未来
离开不留伤害
香槟酒一瓶一瓶及友谊万岁
陪大家一起迎接生存永恒的常态
对明天忠诚的 崇拜

醉下的醉下来 晨曦都将至 好好的感慨
多年来 从青春小艾 成为别人的贤内
明天你要扬帆出海 明天我要多赚两块
更应该 努力不懈的存在 来年笑得更开怀

离开的要离开
过去的喜怒哀乐喝下多少杯
多少祝福语一句一句走过人间的澎湃
成为你的未来
离开不留伤害
香槟酒一瓶一瓶及友谊万岁
陪大家一起迎接生存永恒的常态
欢送你也不要 悲哀
明天也会有欢迎会盛开
consilio et animis
4/11/2009 12:24:00 PM
一笑而过
haha... somehow i get addicted to songs which benita sing for her contest. thought she did fairly well on monday, but unfortunately, there were others who performed better, and so she did not succeed in getting herself revived. nevertheless, im very happy that jocelin is back! love her powerful rocker voice, and hope she will do well in the finals! anyway, happy april fools everyone! :D had a (thankfully) peaceful april fools day today :D
一笑而过 - 那英



不要把脸藏月光背后
有谁会在意我们的生活
坐在安静角落
该为这一刻找个解脱

不要你眼里伪装的内疚
该是自己幸福的时候
静静的想一想
谁会追求刻意的温柔

你伤害了我还一笑而过
你爱得贪婪我爱得懦弱
眼泪流过
回忆是多余的
只怪自己爱你所有的错
刻苦铭心就这样的被你一笑而过

心碎千百遍
任性也无法承担
想安慰自己没有语言
consilio et animis
4/01/2009 09:21:00 PM